Psychologist Opens Doors With Vocational Training
Friday, June 22, 2012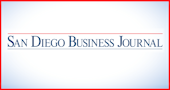 Scripps Health psychologist Jerry Gold, Ph.D., is being recognized as San Diego's Mental Health Person of the Year.
Gold was selected for the honor by a diverse committee of mental health providers and consumers based on nominations from peers. Announced June 1 at the Marriott Mission Valley, he joins an esteemed group of previous winners who, during the past 26 years, have included prominent clinicians, administrators, advocates and judges. Recent title holders have been Alfredo Aguirre, mental health director for San Diego County; Bettie Reinhardt, past executive director of the San Diego chapter of the National Alliance on Mental Illness; and Jeanne McAlister of the McAlister Institute, a substance abuse recovery facility for women and children.
Gold was nominated for the title largely because of his role in establishing the pioneering A-Visions Vocational Training Program at Scripps Health in 2002. Gold said he developed the supportive employment/volunteer program to provide a best practice for helping people with mental illness achieve recovery. Participants are assessed and provided with training before they're offered volunteer and job opportunities in environmental services, clerical or food services positions.
"Many of these people want to work or volunteer. They want to contribute. But because of a mental illness stigma, options may be closed to them," said Gold.
He said that out of 341 program participants, 34 individuals have been employed and 85 have become volunteers.
As administrator of the behavioral health clinical care line for Scripps Health, Gold oversees behavioral health services throughout the system, which consists of a 36-bed psychiatric inpatient unit, an intensive outpatient program, and a psychiatric liaison team that visits Scripps' five acute-care hospitals to help triage psychiatric patients.
The veteran of Scripps since 1989 also serves on the California Hospital Association behavioral health board and provides legislative and regulatory advocacy for the hospital association. In 1999, he was president of the San Diego chapter of the Mental Health Association.
Part of his current role is integrating the treatment of the physical and mental aspects of patients to enhance the quality of care.
"What we want to do is screen on the front end all the medical and psychiatric conditions and treat them in totality," Gold said.