Tandem Takes Insulin Pump to Market
Monday, June 11, 2012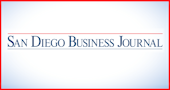 Tandem Diabetes Care Inc. of San Diego is launching its t:slim Insulin Delivery System, a dramatically smaller next-generation insulin pump that has a touch screen user interface, with sales orders beginning June 11. The product will begin shipping in August.
In development since summer 2007, the t:slim was approved by the FDA in November. Tandem CEO Kim Blickenstaff said the company hopes to capture 30 percent to 40 percent of its market, which is the half-million people using insulin pumps. Initially, sales will be focused primarily in the U.S.
"We have the most advanced health care systems and our insurance systems pay for it," Blickenstaff said, adding that the $6,000 cost of the pump is reimbursed by insurance carriers, Medicare and Medicaid.
Blickenstaff said Tandem has already begun expanding its manufacturing operations in Sorrento Valley and ramped up its marketing and sales staff to 22. Growth is expected to continue with the hiring of 30 staff in the short term to augment its 110-strong staff plus as many as 150 additional staff as needed.
A statement says the t:slim insulin pump has the footprint of a credit card and the look of a smartphone. Currently the smallest FDA-cleared insulin delivery system, t:slim is up to 25 percent slimmer than other 300-unit pumps, according to the company.