MEDICINE: REFORMS MAY CREATE BIGGER NEED FOR AT-HOME SERVICES
It's All in the Delivery for This Health Care Company
Monday, June 11, 2012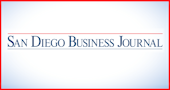 CAREMINDERS HOME CARE – SAN DIEGO MARKET
Owner: Jeffrey Willmann.
Revenue: Operations launched in April 2012.
No. of employees: Five full-time staff and six per diem caregivers and nurses.
Investors: Golden Healthcare LLC.
Year founded: Golden Healthcare LLC was founded in 2011.
Company description: CareMinders Home Care delivers a comprehensive collection of services to clients ranging from skilled medical to non-medical care, regardless of patient's age or condition.
Key factors for success: Top level administrative and caregiving talent, strong referral partners, quality service, connecting CareMinders Home Care to Golden Healthcare's spectrum of integrated mobile health services.
Health care reforms could be just the ticket to helping Jeffrey Willmann get his CareMinders Home Care franchise off the ground in San Diego and achieve his goal of opening four offices in the county over the next several years...