BUILDING: SUDBERRY, AT&T GIVE CIVITA TOTAL CONNECTIVITY
Community Is Wired for Today and Tomorrow
Monday, June 4, 2012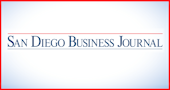 San Diego real estate developer Sudberry Properties has enlisted AT&T to make possible high-speed broadband Internet and advanced TV services at Civita, Sudberry's new multiphase and mixed-use 230-acre master planned community in Mission Valley.
AT&T said it will offer Civita residents Internet protocol-based TV services and high-speed Internet on an advanced fiber optic network directly to every home in the community.
Internet service now is delivered to many San Diego residents through copper offshoots of a fiber optic network node. The quality and speed of signal transmissions typically are lower on copper wires than on fiber optic networks, said Dianne Giacovelli, general manager of AT&T Connected Communities.
The deal, which AT&T and Sudberry officials described as a partnership, offers total connectivity to residents where they live and play in Civita. Residents will be able to check their email and search the Internet on their phones not only in their homes but also while walking their dogs or jogging on the 37 acres of parks and trails on the property.
Although residents must pay a monthly fee for the services, AT&T will provide free Wi-Fi in the common areas, Giacovelli said. Residents will also have the option of subscribing to Internet, TV and phone service packages of AT&T's competitors.
Giacovelli said the cost of these services will be similar to the monthly fees that AT&T now charges customers for Internet, cable TV and phone packages.
System Is 'Future-Proof'
The system at Civita is "future-proof," because it will be easy to change to accommodate advances in Internet connectivity, Giacovelli said.
Civita is the first major master planned urban community in San Diego to offer residents these AT&T services, which include "unlimited availability of TV channels," she said. "Because the TV and Internet services will be on the same wireless platform, you can move things from one screen to another," Giacovelli said. For example, personal photos filed on the resident's smartphone or laptop can be moved to and shown on the TV screen, and movies can be transferred from the TV to a smartphone.
"The AT&T U-verse suite of services is not a new thing," Giacovelli said. "They've been available for about 10 years." Because fiber optic lines are much more easily installed during the construction of homes rather than added to existing structures, the slowdown in the new home construction market has affected the uptake of the AT&T U-verse suite, she said.
An official of Verizon Wireless said that it offers similar services, but not yet in San Diego. "We are without question the largest provider of an all-fiber-optic network on a mass scale in the nation," said Bill Kula, Verizon's director of media relations.
While developing the master plan for Civita, Sudberry officials decided to create a connected community as a result of feedback from stakeholders including neighborhood groups, Marco Sessa, Sudberry Properties' senior vice president, said. "More than once, we heard how much people wanted high-speed and high-bandwidth Internet service."
'Innovative Urban Village'
Now Sudberry regards the connectivity feature as a "competitive advantage," Sessa said.
In a prepared statement, Sudberry Properties President Colton Sudberry said that the services are "part of our commitment to make Civita an innovative urban village that is rooted in sustainability, advanced technology, connectedness and architectural vitality."
Located on a former sand and gravel quarry established 70 years ago, Civita is a multiphase and mixed-use community that eventually will include more than 4,500 homes and rental apartments, such common areas as pools, a community center and parks and trails as well as retail and office space.
Residents have moved into the first apartment neighborhood, Circa 37, and the first for-sale condominium neighborhood, Origen, Sessa said.
"The city grew up around the quarry," he said. "Now it's in the middle of an urban area."
Located north of Friars Road, between Interstate 805 and Mission Center Road, Civita reflects the "City of Villages" smart growth strategy recommended in the City of San Diego development plan.
The name for the community was derived from the Latin roots for "civic" and "vitality," Sessa said.
Cathy Yarbrough is a freelance writer for the San Diego Business Journal.