TRAVEL: OCTOBER EYED AS START DATE; SMALLER MARKETS TARGETED
Airline Waits to Push Back From the Gate
Monday, June 4, 2012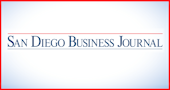 It's taking much longer than anticipated, but liftoff is apparently just months away for Carlsbad's fledgling California Pacific Airlines.
More than three years in gestation, California Pacific hopes to make its first flight by the end of October out of its home field McClellan-Palomar Airport, according to Tom Morrow, vice president of communications.
Morrow said the first of four leased plane will arrive late this month, at which time the airline can hire flights crews and train them.
The startup has had to delay flights due to the complicated regulatory process. However, the end is in sight.
The startup is spending $8 million to $10 million required to get that first flight off the ground, he said.
It is costing $800,000 alone just to bring the first leased plane to Carlsbad.
Currently the manufacturer is configuring the interior or the aircraft and painting the exterior in California Pacific's corporate colors before delivery.
Challenges Ahead
And that cost doesn't include parking fees at the airport, or other costs such as fuel and maintenance.
The challenge, he said, will be scheduling time on one of just four flight simulators located in North America available for the required 30-day training.
California Pacific will be flying the two-engine, 70-plus passenger Brazilian-built Embraer 170, which is now flown by 25 airlines in 54 countries around the globe. This is the first time that the plane will be used by a carrier based on the West Coast.
"It's hard to get in there (simulator), as there are lots of airlines flying the aircraft and it's very competitive," said Morrow. "We have to schedule the training well ahead of time."
He said the training would be held in Toronto.
The FAA, which oversees all commercial airline operations in the U.S., in February approved the first of four phases needed for service to begin.
The agency ruled in that first decision that management is qualified to run the airline.
To help obtain those approvals, the airline compiled more than 40,000 pages of procedures into 32 manuals as required by the FAA.
Decade-long Dream
"It was a lot of work," said Morrow. "A lot of work."
Currently, airline executives are meeting with the FAA in San Diego to go over the procedures, as well as meet other requirements for the other three phases of approvals.
"Right now there's not a lot going on," he said. "It's a waiting game — a testing game. It's an intense process that requires a lot of time."
The airline is hoping to serve cities in the West, especially in smaller California markets, including the airports in Oakland and San Jose, which Morrow said are currently under-served.
Strong Headwind
"They don't have enough business," said Morrow. "They're welcoming us with open arms."
North County real estate entrepreneur Ted Vallas, 91, is behind the startup, a dream that has been in the making for a decade, according to published reports.
California Pacific is navigating a strong headwind to get up and running, and is one of 13 startup airlines trying to get off the ground at this time, according to a story on the subject that appeared in the May 29 edition of The New York Times.
The story noted that process has become much more difficult as legacy carriers rev up the competition and as fuel prices rise along with other costs associated with running an airline.
The last successful airline to launch operations from scratch was JetBlue Airways back in 2000, according to the story.
Virgin Atlantic Airways Ltd. launched its first domestic route between San Diego and San Francisco in 2007 after successfully flying between San Francisco and London for a number of years.
Vallas said the skies won't be as competitive for his startup, because he is targeting a very specific niche, commercial airports in smaller cities offering limited service.
The airline will also offer point-to-point service, which has all but disappeared as all of the largest carriers have adopted the hub-and-spoke system that require routine plane changes for weary passengers, he said.
Vallas also indicated he won't be getting much competition from United Air Lines Inc., the lone carrier now serving McClellan-Palomar, with a limited number of flights connecting Los Angeles International Airport.
Morrow said U.S. regional airports are "begging" for carriers to serve their markets as the established carriers have pulled out in the wake of a series of mergers and consolidations, not to mention bankruptcies.
To help keep his operating costs as low as possible, Vallas would have each plane and crew return to Carlsbad at the end of each day to avoid overnight parking fees and hotels and meals for flight crews.
In addition to the two smaller airfields in Northern California, California Pacific is also planning to serve Sacramento, Las Vegas, Phoenix, Tucson and Cabo San Lucas in Mexico.
It will add other markets in the west in the years ahead, Morrow said.
Russ Niles, editor-in-chief of aviation news website, AVweb.com, said he was impressed with efforts to get the airline off the ground, especially in such difficult economic turbulence.
"It's not easy to do," he said. "It's a very capital intensive and very complicated process."
Brave Vision
"It's very, very difficult to get an airline started, and in fact, it's almost impossible to do," he added, saying that the industry is in the middle of a general consolidation as airlines buy up each other in a period of frequent mergers. "They're the only ones out there right now trying to do this, and you have to give them credit for what they are trying to do."
"It's even more amazing that the man behind this is close to 90 years old," Niles said. "That says quite a bit about him and his vision for the future."
"We think it will be good for us," said Mike Doerr, who runs Air2Air Corp., an air charter business based at McClellan-Palomar.
Doerr said the new airline should help expand the market for air travel out of Carlsbad.
He said he thinks that California Pacific passengers will turn to his service if they miss flights, or need to go to cities not served by the airline, such as Bakersfield.
"It's a tough business to get in to, but they have an excellent crew on board, so we're looking forward to the startup of the service," said Doerr. "We hope business is good for them, because it will then be good for us."
Vallas, who said he has sunk more than $14 million of his own money into the project, said he's also raised $9 million from outside investors, primarily high-net worth individuals.
And within the past year, Vallas added two local businesspeople to his board of directors, including Ted Owen, president and CEO of the Carlsbad Chamber of Commerce. The board now totals nine members, said Vallas.
In addition, Vallas named Bud Sittig as president of the company in July, who is in line to become CEO as part of a formal succession plan.
Sittig was one of the founders of Skybus Airlines in Columbus, Ohio, which successfully raised more than $160 million in a spectacular, but failed effort to launch a new national air carrier in 2004.
"We're moving along," said Vallas, who said he thought the first flight might be pushed up a bit. "It's possible we could bend that a little bit, if everything falls into place. We're getting pretty excited."