HEALTH CARE: THE URINE-BASED TEST MAY DETECT OTHER CANCERS
Test Tailors Therapies to Individual Pancreatic Cancer Patients
Monday, July 30, 2012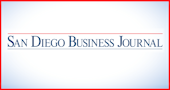 San Diego-based TrovaGene Inc. aims to be the first company to introduce a urine-based test that will determine whether a specific therapy is effectively reducing a patient's pancreatic cancer.
If the test indicates that the treatment is not stalling the tumor's progression, the physician will have the option of prescribing an alternative therapy for the patient. "This is personalized medicine," said TrovaGene CEO Antonius Schuh.
In addition to helping physicians to tailor therapies to the individual patient, such testing could help reduce health care costs by minimizing the time and money spent on treatments that likely will not help patients.
Schuh said the company plans to offer its first-of-its-kind proprietary test later this year or early 2013.
TrovaGene's test is under evaluation at the University of Texas MD Anderson Cancer Center in Houston, which has the nation's largest population of pancreatic cancer patients, Schuh said.
The MD Anderson study will help determine whether TrovaGene's test will provide an alternative to the more expensive and invasive surgical biopsy and blood work methods of monitoring a patient's cancer during treatment, Schuh said.
Could Lead to Early Detection
Future studies may demonstrate that TrovaGene's test can accurately diagnose pancreatic cancer early in the disease's development, he said.
Today, when pancreatic cancer is diagnosed, the tumor typically is advanced and incurable. As a result, the overall five-year survival rate of pancreatic cancer is only 5 percent.
In the U.S., more than 37,000 people die each year from pancreatic cancer, the fourth most common cause of cancer-related deaths worldwide. San Diego resident Sally Ride, the first American woman in space, died recently from the disease.
Additional studies also may reveal that TrovaGene's urine-based test can reliably detect other forms of cancer, such as colon tumors, that share the gene mutation that characterizes most pancreatic cancers, Schuh said.
TrovaGene's method is based on its scientific founders' discovery that a tumor with a mutation in the gene named KRAS sheds DNA fragments that can be detected in the patient's bloodstream and urine.
The discovery, which Schuh said surprised the scientific community, led to the 1999 founding of Xenomics Inc., now known as TrovaGene. As Xenomics, the company focused on protecting its intellectual property and advancing the technology.
"Significant time and money were spent on research and preparing patents," said Schuh, who joined TrovaGene in late 2011.
Validating Test in Clinical Studies
TrovaGene now devotes substantial time and money to validating its test in clinical studies and planning the commercialization of the product.
"Now we can do what we have always wanted to do," Schuh said, adding that TrovaGene had to wait for laboratory technologies to catch up with the company's discoveries.
"Enormous progress in DNA analysis has occurred over the past several years," he said. Because of advances in identifying and analyzing DNA fragments, testing a patient's urine sample for the biomarkers of pancreatic cancer has become feasible and relatively inexpensive.
These technologies "initially were very expensive" and were not practical, Schuh said. Because the DNA fragments are rare and thus are difficult to detect, large volumes of urine would have been required to conduct the tests with the less advanced technologies.
To determine the effectiveness of TrovaGene's urine-based method, MD Anderson physicians are comparing the results of the company's test with the findings obtained from standard tissue biopsies.
"This will allow an early comparison of mutation detection using biopsy, which samples only a portion of a tumor, with detection using urine, a systemic sampling of the patient," said Dr. Matthew H. Katz, of MD Anderson.
The MD Anderson evaluation is not the first clinical application of TrovaGene's test. In a colon cancer study at Thomas Jefferson University in Philadelphia, Schuh said that the company's technology tested urine samples from patients with pre-cancerous colon polyps. DNA fragments carrying the KRAS gene mutation were detected by the TrovaGene test.
The company earlier this year acquired a clinical reference laboratory with a track record of performing highly complex diagnostic assays. Because the facility is CLIA-certified, it meets government regulations for quality and accuracy.
In June, TrovaGene was listed for the first time in the Nasdaq Capital Market, which exists for securities of smaller, less-capitalized companies that do not qualify for inclusion in the Nasdaq Global Market. The listing helped raise $10 million for the company, Schuh said. Before joining Nasdaq, the company was traded on the pink sheets.
Cathy Yarbrough is a freelance writer for the San Diego Business Journal.