MARKETING: RETAILERS SEE NEED AND NECESSITY OF HAVING MULTIPLE ONLINE CHANNELS
Sold on the Changes
Monday, July 9, 2012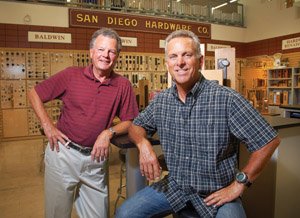 San Diego Hardware has now been in business for 120 years, and operators of the Kearny Mesa retailing stalwart point to a key decision made in the late 1990s that helped ensure its longevity into yet another new century.
That's when the company — with a history dating back to its 1892 start in downtown San Diego — set up its online business, HardwareSource.com. The website has since become a crucial source of sales growth for the often hard-to-find items that the store sells to homeowners and builders, including 3,800 types of hinges.
"The main thing about the website is that it expanded our market to the entire United States," said co-owner Rip Fleming, noting that the online side of the privately held business has consistently seen 10 to 20 percent revenue growth annually for the past several years.
Fleming, who co-owns San Diego Hardware with Bill Haynsworth, a fourth-generation descendant of the original operators, said the multichannel approach has been key to establishing the store's current focus on items geared to owners of upscale homes, and helped it survive numerous economic downturns over the years.
The product mix now features items not found in competing hardware chains and big-box home improvement stores, including more than 7,000 doorknobs, 1,000 door locks and several varieties of designer kitchen and bath fixtures. Store staff answer customers' emailed questions online, often providing direct links to products on the website.
"People might be doing a project at home where they're putting in a gate that weighs 400 pounds, and they want to know what hinge would be able to hold that weight," Fleming said. He added the company is now exploring ways to let customers look up product information with their smartphones while visiting the store, by entering codes posted on shelves.
Online Retail Rising to 37 Percent
Mastering multiple selling and distribution channels is becoming increasingly crucial to retailers big and small. The consulting firm Deloitte recently predicted that the percentage of U.S. retail sales generated online will rise from its current 9 percent to 37 percent by 2017.
Today's reality, according to retail experts at the property brokerage firm Jones Lang LaSalle, is that the consumer shopping experience is no longer just a choice between buying at a brick-and-mortar store or from a retailer's e-commerce site.
Advancing online and mobile technologies are enabling numerous combinations of offline and digital shopping. Some people now order items online and pick them up at a store, while others visit the store and order online at a kiosk. Items can be ordered to be shipped directly to the buyer's home, or shipped to the store to be picked up on a future visit.
Prev Next