EVENT: HOLY GEEKDOM, BATMAN! COMIC-CON IS COMING
Comic Book Characters Set to Invade Downtown
Monday, July 9, 2012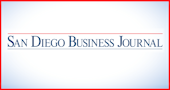 "I like to say Comic-Con is like a river," says David Glanzer, marketing director for Comic-Con International, the mega pop-culture confab that annually brings 130,000 people to San Diego Convention Center.
"The river stays the same from year to year, but the water flowing in it is always different," Glanzer said of the four-day event that has grown well beyond its original following among comic-book geeks over the past four decades. "So while some things may be familiar, there is always something new at the event. Whether it is new exhibitors, or new programming, there's probably something for everyone."
Now its 43rd year in San Diego, Comic-Con — running July 12-15 this year, following an evening preview set for July 11 — also brings a powerful current of economic benefits to the region.
The Convention Center in 2010 released a study, based on 2008 data, estimating that Comic-Con generates nearly $163 million annually in San Diego County, including more than $67 million in direct spending by Comic-Con attendees.
With the economy rebounding, center officials recently upgraded those figures to $180 million in overall impact and $75 million in direct attendee spending, along with $2.6 million in tax revenues generated for the region.
The beneficiaries include hotels throughout the county, as rooms are filled by attendees, exhibitors and media representatives from around the world. Restaurants, bars and shops in places like downtown's Gaslamp Quarter are mobbed by costumed sci-fi fans and others taking in the parade of off-beat sights.
"There is always a really great energy surrounding this event," said Brandy Shimabukuro, spokeswoman for the non-profit Gaslamp Quarter Association. The trade group represents 400 members, including about 200 street-level businesses that get a bump from Comic-Con that is unlike that of nearly any other event held at the nearby convention center.
Street Banners and Promotions
"Most of the businesses start preparing long before the event comes around," Shimabukuro said, adding that street banners, merchant promotions and other signs of Comic-Con's arrival begin sprouting in the Gaslamp well in advance of the event.
Rob Salkowitz, author of a new book on Comic-Con published by McGraw Hill, said the San Diego event has spawned several imitations around the world, but the original retains a unique position in pop culture. That's due to fans' rabid devotion to the core sci-fi culture, the event's proximity to Hollywood, and media companies' need to hear directly from diehards who have been coming to the same place for four decades.
"You can know very quickly if something is going to be a hit, or if it's going to die right there at Comic-Con," said Salkowitz, the Seattle-based author of "Comic-Con and the Business of Pop Culture."
Similarly unusual, for a large city that hosts many events annually, is the impact this one gathering has beyond the venue, and beyond its organizers. In New York City, for instance, he said few conventions cause any scene beyond the convention center itself.
"The degree that it resonates beyond the convention center is notable in San Diego," Salkowitz said. "There's a general sense of excitement about having it there, that it has really been embraced by the community."
Comic-Con's ripple effects span well beyond hotels and other venues immediately adjacent to the convention center.
At The US Grant Hotel, which hosted the very first Comic-Con in its basement in 1970, sales and marketing director Russ Mitchell said the upscale downtown property on Broadway saw all of its 270 rooms booked up several weeks ago.
Compression Effect
Many of its guests during this year's Comic-Con, as in past years, will be executives of the publishing, media production and manufacturing companies, from Hollywood and elsewhere, touting their wares.
Mitchell said the "compression effect," where local hotels gain spillover business when properties nearest the convention center are booked up, goes into overdrive when it comes to the annual pop-culture fest.
"The impact for hotels really goes everywhere during Comic-Con — it's all over San Diego, to North County, and down to Coronado and South Bay," he said.
Scott Hermes, general manager of the Sheraton San Diego Hotel & Marina at Harbor Island, the region's fourth-largest hotel by room count, noted that operators each year know "a long time ahead" that its 1,053 rooms will be filled during the four days of Comic-Con.
The business lift is among the largest of the year for a comparable period, with many of those guests boosting activity for the property's restaurants and other in-house services.
"We get really good crowds in the restaurant for breakfast before they head off to the convention, then a lot of business again in the restaurants and bars as they head back from the day's events," Hermes said.
Hermes and other hotel operators say Comic-Con's impact provides an annual demonstration for the need to expand the convention center. San Diego city and convention center officials are currently finalizing plans to finance a $520 million expansion, to be funded primarily by local hotels.
Comic-Con organizers have committed to keeping the gathering in San Diego through at least 2015, but have been courted very publicly by rival cities with large convention facilities, such as Anaheim and Los Angeles.
"We have a contract until 2015," Glanzer said recently. "Currently we're focused on the show next week. But I'm sure we'll begin looking to the future once the event is over."