MEDICINE: IT IS FIRST APPROVAL OF WEIGHT-LOSS DRUG IN 13 YEARS
FDA Approves Arena's New Weight-Loss Drug
Monday, July 2, 2012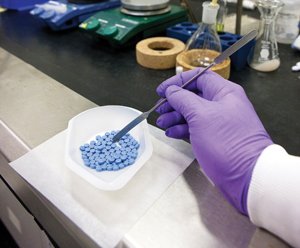 ARENA PHARMACEUTICALS INC.
CEO: Jack Lief.
Net income: $109.22 million loss in 2011; $124.53 million loss in 2010.
Revenue: $12.72 million in 2011; $16.61 million in 2010.
Headquarters: San Diego.
Year founded: 1997.
Stock symbol and exchange: ARNA, Nasdaq.
Company description: Biopharmaceutical company focused on discovering, developing and commercializing oral drugs against an important class of validated drug targets in cardiovascular, central nervous system, inflammatory and metabolic diseases therapeutic areas.
Arena Pharmaceuticals Inc. has scored the first Food and Drug Administration approval of a weight-loss drug in 13 years. For Arena, the FDA decision, announced recently, is another landmark because lorcaserin is the first drug that the company, founded in 1997, submitted to the federal agency for marketing approval.
The FDA approved lorcaserin, which will be marketed as Belviq, for obese patients as well as those who are overweight but also have high blood pressure, high blood cholesterol or type 2 diabetes, all risk factors for heart disease and heart attack.
According to the Centers for Disease Control and Prevention, people who are overweight have a body mass index of 27. The BMI, which calculates body fat based on both height and weight, is 30 and over for obesity.
"The FDA approval of Belviq is an important development for patients who struggle with obesity or are overweight with comorbidities and need help with chronic weight management beyond diet and exercise," said Jack Lief, Arena president and CEO in the company's announcement. Comorbidities refer to secondary diseases such as diabetes.
Pendulum Has Swung
The FDA announcement also is an important development for San Diego-based Orexigen Therapeutics Inc., whose anti-obesity drug, Contrave, is not yet FDA approved.
"The pendulum has swung," said Orexigen President and CEO Michael Narachi about the FDA's decision. "FDA has recognized the need to help patients struggle with obesity. Diet and exercise alone are not working."

The FDA noted that Belviq should be part of a comprehensive program that includes diet and regular exercise.
The agency's caution about approving new weight-loss drugs reportedly is based on their potential cardiac side effects, such as the heart valve damage associated with the diet drugs fen-phen and Redux, both removed from the U.S. market in 1997.
Because so many people in the U.S. are overweight and obese, the number of potential users of Belviq is considerable. In addition, individuals who are not technically overweight but want to lose a few pounds may obtain off-label prescriptions of the drug.
Bariatric surgeon Dr. Sunil Bhoyrul, founder and director of Olde Del Mar Surgical in La Jolla, said that he is not worried about off-label prescriptions of Belviq.
"The regulatory bodies such as FDA will keep an eye on how Belviq is prescribed, and no doubt, Arena will be very cautious," Bhoyrul said.
Lisa M. Steres, a San Diego-based psychologist specializing in counseling obesity patients, said that the FDA approval "helps define obesity as a complex medical disease. For too long, society has blamed people who are obese by saying that they are lazy or overindulgent. The approval reminds patients as well as society that obesity is a medical condition that should be treated by medical professionals using medical care."
Motivates Patients to Continue
Even though Belviq does not trigger dramatic weight reduction, "the loss of just a few pounds can motivate patients to hang in there and to keep trying," Steres added.
In clinical trials, overweight and obese patients on a reduced-calorie diet and exercise regimen lost more weight than did a comparable group of individuals who dieted and exercised but did not take the drug. The Belviq-treated group lost five percent or more in body weight and maintained the loss for up to two years.
The FDA said that a patient should stop taking Belviq if after three months a five percent weight loss has not occurred. "If patients aren't losing weight by 12 weeks, there is no reason to continue," Lief said in a conference call.
Belviq, which helps people feel full after eating relatively small amounts, will not be sold until the federal government classifies the drug's abuse potential.
Belviq's price has not yet been set, according to Arena, which will manufacture the drug in Switzerland. New Jersey-based Eisai Co. Ltd. will market and distribute it in U.S. and Canada.
The Preventive Services Task Force recommended that doctors refer their obese patients to a comprehensive lifestyle management program to help them lose weight.
"A recent survey indicated that a high percentage of physicians do not discuss weight management with their obese patients," Steres said. "Perhaps the availability of this new obesity medication will prompt them to talk with patients about the role of diet, exercise and medical treatments to lose weight."
Cathy Yarbrough is a freelance writer for the San Diego Business Journal.