West Wireless Health Institute to Study Portable Fetal Monitoring Device
Tuesday, January 31, 2012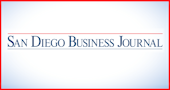 The West Wireless Health Institute of San Diego announced Jan. 25 that it will be using a hand-held portable wireless device called Sense4Baby in a yearlong research study with the Carlos Slim Health Institute in Yucatan, Mexico. DD Studio in Carlsbad collaborated with the West Wireless institute on the design of the device.
The device, which measures such things as a baby's heartbeat and a mother's contractions, allows doctors to perform maternal and fetal monitoring anywhere there is cellular service using a tablet or smartphone.
According to a press release, the first phase of the research study launching in the second quarter of 2012 will involve deploying Sense4Baby in a kit that also integrates testing devices for blood pressure, blood glucose and protein in urine to up to 10 clinics in the state of Yucatan. Physicians will use the device in the primary care setting for routine care for expectant mothers. The second phase, beginning in fall 2012, equips community health workers with the Sense4Baby kit and enables them to monitor high-risk pregnancies from the mother's home.
The first experimental wireless device being spun out of WWHI will be integral in determining how preventive monitoring technology can be used to lower health care costs by mitigating adverse outcomes associated with high-risk pregnancies.
The West Wireless Health Institute is a nonprofit medical research organization that strives to lower health care costs through technology and innovation. DD Studio provides strategic design and product development to companies in the high-tech, medical, wireless and commercial markets.
— Julie Gallant