Real Estate Roundup
Monday, January 30, 2012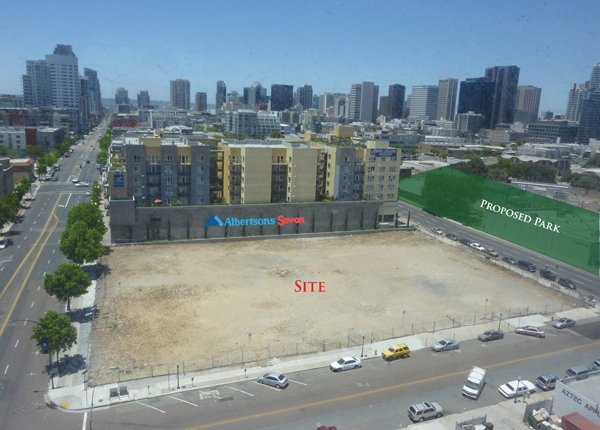 R&V Management Acquires 316 Condo Units for $77M
According to CoStar Group, R&V Management Corp., a real estate firm that operates residential units in San Diego County, acquired 316 of the 464 units at the Missions at Rio Vista condominium project at 2242 Gill Village Way in San Diego from Missions Rio Vista LP for $77 million, or approximately $235 per square foot.
Built in 1999, the 30-building property sits on a 15.75-acre parcel. The 316 rental units consist of one-, two-, and three-bedroom units, with an average of 1,033 square feet per unit.
Edward Rosen, John Chu and Alejandro Lombrozo of Cushman & Wakefield represented the seller. The buyer was represented in-house.
Sorrento Mesa Industrial Buildings Sell for $10.5M
CB Richard Ellis announced that Mira Sorrento Venture LLC acquired the Mira Sorrento Business Park with a combined square footage of 97,472, located at 9365, 9370-9380 Waples in San Diego, for $10.5 million. The three-building, multi-tenant industrial/flex project is located in Sorrento Mesa adjacent to Mira Mesa Boulevard and was 100 percent leased at the time of sale. 
The seller, Mirso Properties L.P., was represented by Paul Lafrenz, Paul Komadina and Nick Psyllos of CBRE, along with Brian Crepeau and Ken Robak of Pacific Coast Commercial. This was the second sale for the seller handled by CBRE and Pacific Coast Commercial, as they sold the Prospect Park industrial project in Santee in December.
Downtown Property Buyer Planning Mixed-Use Project
Holland Development, in partnership with Real Estate Capital Partners, has purchased a 61,845-square-foot site located at the northwest corner of 15th and Market streets in San Diego for $7,250,000.
The seller, CJUFII-Lankford 15th & Market LLC, is a partnership of Canyon-Johnson Urban Fund II and San Diego-based Lankford & Associates. The transaction was handled by Victor Krebs and Rob Morgan of Colliers International.
The buyer plans to construct a mixed-use project with approximately 240 apartments over ground-floor retail on the 61,845-square-foot parcel. Construction is expected to commence in the third quarter of 2012. The Holland Partner Group is a multifamily investment company with in-house construction and property management services. Holland has begun eight projects and 1,943 units in 2011, which are being developed through offices in Denver, Portland, Seattle and Southern California. 
32-Unit El Cajon Apartment Complex Fetches $3.37M
The Harbone Family Trust sold Anza Village at 265-295 S. Anza St. in El Cajon for $3,375,000, or approximately $119 per square foot.
The 32-unit apartment complex features 16 units that are two bedrooms with two baths and 16 units that are two bedrooms with a single bath. The buyer received a credit for landscaping, fences and repair cost for the pool.
Ron Mazzola of Ron Mazzola Realty represented the buyer, David Lysinger. Joseph Siemienowski with Siemienowski & Associates represented the seller.
Affordable Housing Slated For 1.63-Acre Santee Site
Wakeland Housing and Development purchased the 1.26-acre parcel located at 8820 Olive Lane and 9554-60 Via Zapador in Santee for $1,400,000.
The seller, LMN Family Limited Partnership, was represented by Victor Krebs and Rob Morgan of Colliers International.
The buyer purchased the parcel as part of an assemblage with an adjoining city owned lot that is 0.37 acres, which was previously excess land owned by the California Department of Transportation as part of the state Route 52 extension. The buyer plans to develop a 44-unit affordable housing project on the combined 1.63-acre site with rents restricted to 50 percent and 60 percent of area median income. The project will contain 18 one-bedroom units between 654 and 753 square feet, 12 two-bedroom units between 831 and 917 square feet and 14 three-bedroom units between 1,118 and 1,132 square feet with 67 parking spaces.
Penthouse Purchase Completes Condo Sales
With the recent sale of The Top of the Mark Penthouse, The Radco Cos. has officially completed the sell-out of The Mark, a 244-unit condominium located in the heart of San Diego's East Village, directly north of the San Diego Padres' Petco Park. A local businessman purchased the penthouse, less than one year after the space was placed on the market.
Radco was hired as a lending agent for the project and immediately restructured the property's loans to include some additional terms and flexibility, with the agreement of all parties involved. Then Radco began a value preservation program, where they stabilized the asset, maintained its value and extracted additional value for the ownership entity.

The Top of the Mark Penthouse features a spacious two-level layout on the 32nd floor of the building, including 3,700 square feet of interior room and more than 1,700 square feet of private terrace and balcony space that offers panoramic views of Coronado Island and Mission Bay. The penthouse also affords privately controlled access and includes four garage parking spaces and private storage.