FINANCE: JMI EQUITY RANKS 1ST ON SDBJ LIST FOR 4TH CONSECUTIVE YEAR
VC Funds Still Flowing — Especially to Firms With Bright Ideas
Monday, January 23, 2012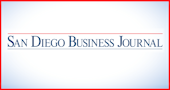 Venture capital financing in San Diego is alive and well, though nothing like the heady days of the dot-com boom.
For the 11 firms represented on the San Diego Business Journal's Venture Capital Firms list, ranked by 2010 capital under management, the group is up 18 percent from 2009 to 2010.
JMI Equity, No. 1 on the list for the last four years, grew capital under management to $2.1 billion — a 62 percent increase from 2009 to 2010.
"We closed our seventh and latest fund in late 2010 with $875 million in committed capital," said Paul Barber, managing general partner. "Consistent with our growth equity strategy, investments were in high growth businesses and established market leaders."
JMI was active in 2011 and early 2012 with investments in six new portfolio companies, most notably Brightline Partners LLC, a provider of marketing services in the interactive TV advertising space, and PointClickCare, an electronic health records platform for the long-term-care industry, Barber said.
"Recent exits include: Arrowhead General Insurance Agency, Seismic Micro-Technology, Global 360, Activant, QuIC Financial Technologies," Barber said. "In addition, San Diego-based DriveCam, in which JMI is an investor, closed on an acquisition and raised $85 million from private equity firm Welsh Carson Anderson & Stowe."
'An Attractive Place to Invest'
Barber said that the investing environment for growth equity was generally favorable and that high growth investments are competitive. "We are focused on opportunities where our experience and industry specialization give us conviction and where we believe we can add value," he said. "San Diego is an attractive place to invest."
Avalon Ventures, No. 5 on the list, reported the highest percentage of growth in capital under management — 77 percent — from 2009 to 2010, for a total of $453 million. According to Avalon's website, the firm invests in seed and early stage companies in the life sciences and information technology sectors.
Among Avalon's San Diego-based investments are Ambit Biosciences, Amira Pharmaceuticals, MOGL and Uwanna Inc.
Sanderling Ventures, No. 2 on the list at $880 million, reported no change in capital under management from 2009 to 2010. Sanderling has supported more than 90 biomedical companies from very early stage startups through commercial development. The emphasis of the firm is early stage financing and active management of its portfolio companies, according to its website.
Only one firm on the list reported a decline in capital under management from 2009 to 2010. Third-ranked Enterprise Partners Venture Capital said its figures dropped from $900 million to $700 million — a 22 percent decrease.
Seven of the 11 firms on the list said there was no change in their figures.
Money for Life Sciences, Web Projects
David Titus, the president of the San Diego Venture Group and managing director of eighth-ranked Windward Ventures, said San Diego's venture capital climate is dominated by life sciences, pharma, diagnostics, wireless and analytics.
"There is also a growing population of Web projects being funded like MOGL, a software platform that combines a credit card cash-back program with a restaurant loyalty campaign, Climber.com, a career research and development website, and ServiceNow, an enterprise IT service management company," Titus said.
He described the San Diego Venture Group as a 25-year-old nonprofit association that strives to promote the ecosystem of venture capital in San Diego.
"The cornerstone of the association is the 11 educational and networking events throughout the year, which are attended by as many as 500 people," Titus said.
Acknowledging that venture capital is hard to track since there is no requirement to report it, SDVG's research from PricewaterhouseCoopers and the National Association of Venture Capital reports that in 2007 there was $30.3 billion raised, versus $18 billion in 2011.
"There was definitely less money nationwide devoted to venture capital than three to four years ago," Titus said. "The market has stabilized since the crash to a much slower level."
He added, "However, the best companies with the best teams and the best ideas are still getting funded."