BIOTECH: ENZYME REMOVES FILTER CAKE AND IS BIODEGRADABLE
Company's Oil-Field Services Arsenal Employs New Weapon
Monday, January 23, 2012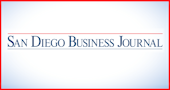 Filter cake is in the crosshairs at industrial biotech company Verenium Corp.
The publicly held enzyme maker has developed an environmentally friendly alternative to the chemicals oil-drilling companies traditionally use to break down the gritty residue known as "filter cake," which builds up along the sides of an oil well.
For Sorrento Valley-based Verenium, its newest product offering — called Vereflow — marks a notable expansion of its oil-field services business unit. Until now, that unit has been comprised of just a single product, Pyrolase.
Both Vereflow and Pyrolase are enzymes used for toxic cleanup. Pyrolase targets the guar often used in fracking, a method of extracting natural gas and oil.
Bigger Slice of the Pie
"When we looked across our business, we identified this as a channel where we could be selling more products," said James Levine, Verenium's president and CEO. "Vereflow will go toward drilling applications, but the end customer tends to be the same (as for Pyrolase). The idea is to replace harsh chemicals with a fully biodegradable alternative."
Verenium is looking to sell the product to oil field giants as such as Schlumberger, Halliburton Co. and Baker Hughes Inc., all of which have U.S. operations based out of Houston. There are also myriad smaller to medium-sized oil-drilling companies, Levine said.
He estimates the addressable global market for Vereflow in the United States to be approximately $20 million per year, just a fraction of the $250 million market for Pyroloase, which serves much broader applications, Levine said.
"We're a $60 million company," he said. "We are looking to be opportunistic and we're looking to be scrappy."
Part of the reason the market potential is at just $20 million is that "you only need a tiny amount of the enzyme to make this work," Levine said.
Verenium is manufacturing Vereflow in Mexico City under its existing agreement with Fermic S.A. de C.V. He said the company is in discussions with one of the top three oil-drilling players named above.
Enzymes Go to Work
Filter cake is the gritty substance that builds up at the opening of the wellbore during the oil-drilling process, preventing the oil from freely flowing out.
"Once you're done drilling, you want to remove that filter cake," Levine said. "Traditionally, one might use acids, but acids can be damaging to steel equipment that's inside the well. We found that enzymes can also be effective in removing that cake."
Verenium was formed in 2007 through the merger of San Diego's Diversa Corp. and Cambridge, Mass.-based Celunol Corp.
The company currently has 10 commercial products, four of which are enzymes that help with grain-processing — a business segment that represents about 35 percent of total revenues, Levine said. Other business categories include animal health and nutrition and oilseed processing.
Verenium in December announced that its single oilseed product, Purifine PLC, will now also be targeted for use in pretreatment of oil for biodiesel production.
The company began marketing and selling Purifine in 2008 as natural product to improve production yields of edible oils such as vegetable oil.
Now, with the addition of biodiesel applications, Verenium estimates the total market size for Purifine to be around $350 million annually. The company expects its first customer applying the enzyme for biodiesel production — engineered and implemented by Sweden's Alfa Laval AB — to be fully operational in the first half of 2012.
Joseph Panetta, president and CEO of Biocom, San Diego's life sciences trade group, often cites industrial biotech companies such a Verenium as a key growth area of the local industry. "Biological systems produce less waste and utilize energy more efficiently than chemical systems," Panetta said.
Verenium, with a market cap of $28.4 million, has seen shares fluctuate between $1.35 and $3.40 over the past year. The company's stock trades on Nasdaq under the symbol VRNM. Shares were at $2.25 on Jan. 16.