HOSPITALITY: VC FIRMS EXPECTED TO INVEST $10M IN MOGL'S CONCEPT
Company Cashes in on Rewards, Restaurant Loyalty Programs
Monday, January 23, 2012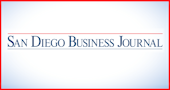 Solana Beach-based MOGL had already drawn attention from the local technology and hospitality communities with its software platform that combines a credit card cash-back program with a restaurant loyalty campaign.
Now financial backers apparently like what's being served up, as the privately-held company surpasses 300 Southern California dining establishments on its client roster. In late January, company officials report, MOGL is set to receive a $10 million Series B infusion from four prominent venture capital firms, led by Sigma Partners of Menlo Park.
That comes less than a year after MOGL got its initial funding of $2.4 million in March 2011, from Texas-based Austin Ventures and Avalon Ventures of San Diego. MOGL Chief Executive Officer Jon Carder said those firms are also involved in the latest infusion, along with Anthem Venture Partners of Santa Monica.
Carder said the new cash will help the company grow its presence on the West and East Coasts later this year, with San Francisco and New York City among its next target markets. The company will be moving in February from Solana Beach to larger offices in Sorrento Valley, and by year's end is planning to grow its employee base from its current 35 to 100.
MOGL's program (the name is not an acronym, but a play on the word mogul) involves no coupons or loyalty cards. Restaurant patrons sign up for free on the MOGL website or through its mobile-device application, adding information on the debit or credit card they plan to use when dining out.
When customers use the card at participating eateries, they are issued 10 percent cash back on those cards, through arrangements that MOGL has with Visa, MasterCard and American Express. Customers also receive email notifications from MOGL updating them on how much they've spent and saved during the month.
Customers Can Win Prizes
As part of MOGL's arrangement with participating eateries, approximately 1 percent of a restaurant's sales goes into a monthly jackpot administered by MOGL, in which a cash prize goes to the top three customers at each restaurant based on the amount of money they saved on meals.
"The restaurants like this because it brings people back," Carder said. "The customers like that they're saving money and because we've made it a competition, it makes eating out more fun for them."
Carder said the program also has a philanthropic element that encourages customer loyalty at member establishments. When a customer spends at least $20, MOGL donates a meal to Feeding America, a prominent domestic hunger-relief organization.
Carder said the company cannot disclose total spending by customers under the program, but as of mid-January customers at participating eateries had saved a total of approximately $250,000 on meals since MOGL's debut. MOGL has so far donated nearly 23,000 meals to the food-aid group.
The CEO said his company has also been able to issue reports to member restaurants indicating that MOGL members are spending approximately 71 percent more per person than the eateries' average customer.
The MOGL platform has gotten several write-ups in regional and national publications, including Harvard Business Review and U.S. News, and recently won a software innovation award in annual honors bestowed by Connect, a San Diego County group that links tech inventors and entrepreneurs with capital sources.
Standing Out in Crowded Field
Erik Thoresen, director of research and consulting for restaurant industry consulting firm Technomic Inc., said the MOGL offerings show promise in breaking through what is currently a crowded national field of loyalty cards, coupon offerings and entertainment discount book programs targeting restaurants.
"Everybody is looking for the secret sauce, but so far nobody has come up with that one dominant, killer app," Thoresen said.
A potentially innovative element of MOGL, he said, is the use of mobile technology in a way that involves consumers in a user-friendly way, while minimizing administrative involvement and expense for participating restaurants.
He said mobile devices in particular are gaining traction for menu displays, food ordering and marketing at eateries nationwide, although incorporating devices into the payment and rebate process has proven to be a more gradual sell for consumers.