Real Estate Roundup
Monday, January 16, 2012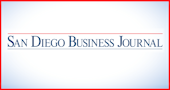 Steel Framing Complete for Illumina's Headquarters
The structural steel framing is complete at the most recent building to be constructed at the Alexandria Nobel Campus facility located at 5200 Research Center Place in San Diego. When complete, the 127,373 square-foot, four-story research and development building will consist of laboratories and office space with one level of subterranean below-grade parking.

The steel frame structure utilizes SidePlate, a proprietary connection system designed for use in lateral resisting moment frame construction. This is SidePlate's first commercial building application since the connection has been re-engineered, resulting in less steel consumption and overall cost and erection time savings.
Illumina Inc. is leasing the property from Alexandria Real Estate Equities Inc.
Tenant Improvements Made To UCSD Dermatology Office
Diversified Construction Technologies Inc. completed the design-build tenant improvement project for UC San Diego's Division of Dermatology Extension office. The project start date was July 2011 and completion was in December.
The project included complete demolition of the 11,819 square-foot property which was previously utilized as an office space, and was re-designed by SRI Architects — Interior Division, to fit the medical office needs of the new Dermatology Division, including both general and procedural dermatology. The space includes two lab areas, including a clinical trial lab, approximately 20 exam rooms, three procedural rooms, and multiple office spaces.
The space was expected to be occupied at the beginning of 2012.
Topping Out Ceremony Held at College Campus
 A topping out celebration was held Nov. 18 to mark the placement of the highest structural element at San Diego Community College District's Linda Vista campus.
In keeping with this longstanding construction tradition, the final vertical beam — one of more than 17,000 pieces of steel used for the Linda Vista Campus — was painted white and made available for construction crew members, campus and district dignitaries to sign before it was lifted into place along with an evergreen tree and American flag. A 220-ton crane hoisted the beam into its final position.
The $20.6 million facility will be a two-story, 38,000 gross square feet building consolidating programs currently offered in temporary classrooms at Clairemont High School, Linda Vista Presbyterian Church (a rented facility), and in surrounding community and neighborhood sites. The new facility will offer classes in English as a Second Language, Disability Support Program and Services (the Acquired Brain Injury Program), Emeritus (classes for age 55-plus), and Parent Education programs. In addition, there will be a parent/child educational space, a nutritional kitchenette for classroom demonstrations, as well as the required administrative office areas. The project is designated to obtain Leadership in Energy and Environmental Design Silver certification.
The Linda Vista campus is one of 14 projects currently under construction as part of the $1.555 billion Propositions S and N construction bond program, providing for new instructional and career training facilities, major renovations, parking, public safety enhancements and infrastructure projects at City, Mesa and Miramar colleges and six Continuing Education campuses. 
Project partners included SGPA Architecture, PCL Construction, Latitude 33, Johnson Consulting Engineers, MA Engineers, MW Peltz & Associates and Gafcon.
Construction Continues On Air Force Base Project
San Diego-based KMA Architecture & Engineering announced that construction is 50 percent complete for the F-16 Aggressor Hangar Aircraft Maintenance Unit at Nellis Air Force Base in Clark County, Nev. KMA, teamed with Jaynes Corp., provided design and architectural engineering services for the project to comply with Leadership in Energy and Environmental Design Silver requirements.
The 39,797-square-foot F-16/AMU facility incorporates environmentally conscious features including exterior sun shades, large clerestory windows to provide natural daylighting, low-E glazing, water-efficient plumbing fixtures, low-voc paints/sealants and recycled-content materials.
The design features of the hangar portion of the F-16/AMU facility include sliding hangar doors for aircraft and a 5-ton bridge crane for aircraft maintenance. The two-story AMU portion of the facility includes spaces for administrative functions, training, supply storage, and features exterior decks.
The KMA project team consisted of Don Blair, Jay Janda, Heather Mertes, Ilia Voronchihin and Alison Warren. The structural engineers are Wright Engineers and Chavez-Grieves, the civil engineer is Wright Engineers, the electrical and mechanical engineer is Jordan & Skala, and the landscape architect is DW Landscapes Inc. Fire and life safety engineering services are provided by Aon Risk Solutions and the plumbing engineer is Dynamic Plumbing.
PulteGroup on Acquisition Spree in Southern California
PulteGroup, which continues to invest in available finished lots in key areas, announces its third new-home community acquisition in Southern California in the past three months.
In the most recent acquisition, Pulte Homes is scheduled to close escrow this month on Torrey Highlands, a 44-unit community located in the Carmel Valley area of the City of San Diego. In August, Pulte Homes closed on 18 infill units in Los Angeles and in September purchased 26 lots in the City of Vista.
The mature, job proximate markets of North San Diego market prompted PulteGroup to open four other new communities in the area earlier this year. The communities, located in Rancho Bernardo, Carlsbad and San Marcos, represent more than 270 new home sites and opened for sales within months of being acquired by PulteGroup.
Voit Wraps Up Sale of Medical R&D Property
Voit Real Estate Services' San Diego office has successfully completed the $1.335 million sale of an 8,748-square-foot industrial property located at 9930 Mesa Rim Road in San Diego.
The facility, which has undergone more than $500,000 of high-quality improvements, will serve as a medical research and development facility, according to Randy LaChance, senior vice president in Voit's San Diego office.
LaChance, along with Jon Danton of Voit's San Diego office, represented the seller, Ole and Bente Sorensen, in the transaction.  Voit's Todd Holley and Ellen Thomas represented the buyer, Salma Jason Monica LP.
The buyer acquired the building as an owner-user, according to Voit.