SPORTS: COMPANY SHAPES ITS FUTURE WITH NEW TECHNOLOGIES
Nature's Designs Are Translated Into Better Boards for Surfers
Monday, January 16, 2012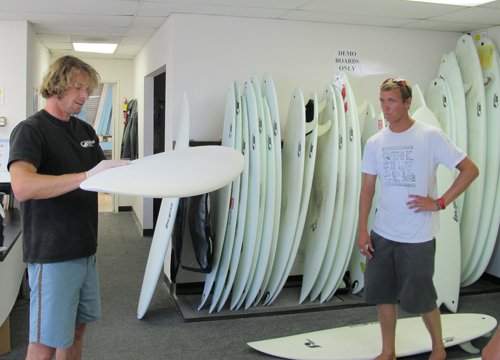 HYDROFLEX SURFBOARDS
CEO: Sven Brauers.
Founder: Rouven "Bufo" Brauers.Financial Data: Unavailable.
Investors: Raised total of $1.5 million in private investment.
No. of local employees: Nine.
Headquarters: Oceanside.
Year founded: 1991.
What makes the company innovative: A three-dimensional glassing process that makes surfboards more flexible and durable.
Key factors for success: Continuous testing of new models, cooperation with best surfboard shapers in the industry.
Rouven "Bufo" Brauers turned to nature for inspiration to come up with a new surfboard...