AEROSPACE: FAST FLYING JET UAV DEVELOPED AT COMPANY'S EXPENSE
General Atomics Finds Customer for Unmanned Aircraft
Monday, January 9, 2012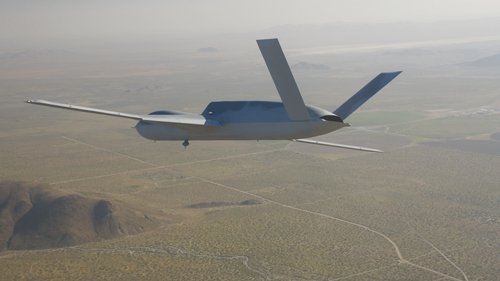 General Atomics Aeronautical Systems Inc. has a customer for its Predator C Avenger unmanned jet aircraft.
It is the U.S. Air Force, which already operates a fleet of propeller-driven aircraft from GA-ASI.
An Air Force announcement regarding a noncompetitive contract to buy the stealthy jet drone appeared Dec. 14 on the Federal Business Opportunities website.
The Air Force plans to spend $15 million on a single Avenger. A military spokesman said the Air Force will use it for testing.
An executive for La Jolla-based General Atomics-Aeronautical Systems was not available for comment by press time. A company spokeswoman said Jan. 4 that GA-ASI had not yet received a request for proposal for production of the aircraft, nor had it submitted such a proposal to the Air Force. She said the company expects that a contract award will follow those steps.
In its Dec. 14 notice, the federal government said it was going ahead with the sole-source deal because it did not believe there was any other product on the market that could satisfy the government's requirements.
"A noncompetitive contract is not usual in these circumstances," said Phil Finnegan, an analyst with Teal Group Corp. in suburban Washington, D.C., by email. "General Atomics Aeronautical Systems has (an unmanned aircraft) that is ready for testing. Competitors are still developing their systems."
Significant Advantages
A federal acquisition document said the Secretary of the Air Force's office had been working to get a test aircraft since at least July.
"The Air Force has repeatedly delayed plans for its next generation UAV," or unmanned aerial vehicle, Finnegan added. In Pentagon lingo, the future unmanned aircraft is called the MQ-X.
"If the Avenger is able to provide significant advantages over existing UAVs, then the Air Force may not need to engage in a costly development program at a time when budgetary resources are becoming increasing scarce," the analyst said.
Finnegan said the Poway aircraft maker was acting in typical fashion.
"This has been precisely General Atomics Aeronautical Systems' strategy," he said. "It developed the Avenger with its own funds to try to stay in front of the market and even define requirements for the next generation of UAVs. Those UAVs need to be stealthier and faster to enable them to survive in areas in which an adversary has air defenses," he said, noting that air defenses were not very strong in Iraq and Afghanistan.
Internal Weapons Bay
The jet-powered Predator C can fly at 460 mph — much faster than GA-ASI's largest propeller-driven aircraft, the Reaper, which flies at 275 mph. Both can fly as high as 50,000 feet.
The new jet has a weapons bay inside its belly, which lets it carry up to 3,000 pounds of explosives. This would give commanders the option of loading a 2,000-pound bomb on the drone. GA-ASI marketing materials say the Avenger also has six spots, or "hard points," on the wings where it can carry external weapons.
Carrying weapons internally contributes to the aircraft's reduced radar signature that, while not completely stealthy, makes the airplane more difficult to detect by radar while flying at high altitudes.
By comparison, the Reaper carries all weapons — 500-pound bombs and 100-pound Hellfire missiles — externally.
The Avenger can also act as an observation aircraft, providing improved situational awareness via a heavier, more sophisticated sensor payload than the Reaper.
GA-ASI says its jet-powered Avenger can stay aloft for 18 hours — not as long as the original, prop-driven Predator or the Reaper, which can stay aloft for 40 hours and 30 hours respectively.
The Avenger is powered by a model PW545B turbofan jet engine, made by Pratt & Whitney, a unit of United Technologies Corp. The power plant is similar to jet engines used on small-business aircraft.