INNOVATION: TOOLS REDEFINE CARE PROCESS; PATIENTS MORE INVOLVED
Mobile Health, Genomics Change Doctors' Role
Monday, February 27, 2012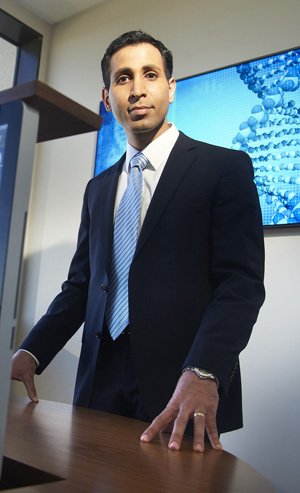 Dr. Samir Damani doesn't want patients to dread visiting his office. He wants them to look forward to it as much as they'd look forward to a trip to an Apple store at the mall.
So Damani designed the lobby of his medical practice, MD Revolution Inc., located in La Jolla's XiMed Medical Center, with colorful modern décor and a storelike display of the mobile health tools his patients use to monitor key biometric data such as heart rate and exercise levels.
"My goal is to make people excited to come here and learn about their health," said Damani, who works on a team with co-founder Dr. Sunil Bhoyrul and Chief Technology Officer Vincent Valentino. "I want medicine to be fun and cool. We're giving people the toys and tools to help them reach their goals."
As you may have guessed, MD Revolution isn't the usual medical practice. Damani, who's also a practicing XiMed cardiologist, isn't a primary care doctor and doesn't try to be. He likes to think of himself as more of a preventative medicine coach.
Damani launched the MD Revolution business concept in February for patients who want to understand their genetic predispositions and create a personalized plan to stay healthy using the latest mobile gadgets.
Prevention a High Priority
His focus is helping his clients prevent and modify the typical course of diabetes, heart disease, high blood pressure, and obesity, among other chronic disorders.
The company sells packages that mostly range between $2,000 to $10,000 and include the price of wireless tools such as Apple's iPod Touch and Fitbit Inc.'s wireless fitness trackers. Patients receive the tools at their visit and are trained to use them properly.
So far, MD Revolution's services aren't covered through insurance plans, Damani said; patients pay out of pocket.
Nonetheless, Damani believes that his nontraditional approach to guiding patients to better health — an approach that incorporates genomic data, mobile devices, and preventative care strategies — will become the standard model in the future of health care.
"This is really all about changing behavior," Damani said. "That's not an easy thing to do. But we have to do it because chronic disease is crippling America. Doctors need to do more than just treat disease. They need to know what else is going on in their patients' lives."
Gadgets, DNA Data Motivational
Conditions such as obesity and diabetes are closely tied to overeating and a sedentary lifestyle Damani said, citing a study that showed positive changes to diet and exercise were more effective at preventing heart attacks than taking the blockbuster drug Lipitor, he said.
And when patients can easily track their health on mobile devices, they're motivated to stay on track with new regimens.

"Digital technology has changed the way we do everything in our lives, but it hasn't really penetrated medical care like it's going to," Damani said. "Fifty million people in America have a smartphone. What if they started using their smartphone to see how their blood pressure is doing and how many steps they walked in one day?"
Meanwhile, the rise of personal genome testing by companies such as Google-backed 23andMe Inc. in Mountain View to San Diego-based Pathway Genomics, is giving consumers unprecedented knowledge about their genetic predispositions to diseases such as hypertension, diabetes, asthma and even Alzheimer's.
Pathway is working with Damani to provide DNA reports to MD Revolution's patients. Pathway specializes in genetic testing for nutrition and exercise response, inherited disease, prescription drug response and other health conditions. Unlike 23andMe, which markets itself to the masses, Pathway seeks to interact primarily with doctors.
"Ultimately, people need to know genetic makeup and lifestyle have the power to impact health and wellness," Pathway's Chief Medical Officer Michael Nova said at the American Dietetic Association Food and Nutrition Conference and Expo in San Diego. "Pathway's goal is to educate and empower health care practitioners and patients."
Lowering the Cost of Care
This new combination of genetic knowledge and widespread availability of digital health-tracking tools presents a major opportunity for patients to work with health care providers in a new way, and ultimately lower the cost of health care, Damani said.

He said he was called to action to create a business plan for MD Revolution after reading an enlightening report from consulting firm New York-based PricewaterhouseCoopers LLP, "The New Science of Personalized Medicine: Translating the Promise Into Practice."
"For health care providers, personalized medicine offers the potential to improve the quality of care, through more precise diagnostics, better therapies, and access to more accurate and up-to-date patient data and sophisticated decision support tools," the report said, also noting that "primary care providers may have to build new service lines around prevention and wellness" in order to replace revenues lost from obsolete medical procedures.
PricewaterhouseCoopers said that the personalized medical care market — including telemedicine, health information technology and disease management services — was worth $4 billion to $12 billion in 2009 and could grow tenfold to more than $100 billion by 2015.
The Good Kind of Destruction
San Diego's own Dr. Eric Topol, cardiologist and chief academic officer at Scripps Health, writes at length about the convergence of personalized medicine and wireless technology in his new book: "The Creative Destruction of Medicine: How the Digital Revolution Will Create Better Health Care" (Basic Books, 2012).
By leveraging the science of individuality, doctors will be able to get the relevant digital readout from a person to fashion a therapy, instead of using a mass-population-directed strategy, Topol said.
"We now have the tools to do this on a broad basis throughout medicine and for the first time promote a level of prescription precision we have never seen before," he writes in his book, released in hardcover on Feb. 1.
Damani has 12 patients so far at his new medical practice. He said he has faith that his idea will catch on more widely as consumers demand it.

"This is the future of medicine," he said. "I have no doubt that this, five years from now, is going to be the norm in every city. Society is ready for it. The question is, are doctors ready?"