Solar Panel Business Shines Light on Job Creation
Thursday, February 23, 2012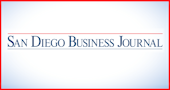 OneRoof Energy, a San Diego firm that contracts with roofers to install residential solar panel systems, scheduled a news conference for Feb. 22 with Mayor Jerry Sanders and CleanTech San Diego to announce the creation of about 100 local jobs in the next year.
The majority of the jobs involve staffing at the company's call center and headquarters in University City, but OneRoof's efforts will also result in additional solar panel installation people and some management positions, according to a company contracted spokeswoman.
The latest announcement follows a report from OneRoof last month that it added 20 employees since September, when it received $50 million in financing from Hanwha International, Black Coral Capital, and U.S. Bancorp. That increased its staff to 31.
OneRoof's business model is contracting with roofers and construction firms to install the panels on houses for lease-back to the homeowners. The arrangement allows homeowners to reduce their electrical energy use while not having to pay for the upfront costs involved in the panel installation, the company said.
Meanwhile, Borrego Solar Systems, another San Diego solar installation business, said Feb. 21 that it was awarded a contract from the federal General Services Administration to provide its services to federal agencies. The undisclosed contract expands Borrego Solar's foothold in the growing federal and military solar installation market, the company said.
Mike Allen