Startup Airline Passes First Certification Phase
Thursday, February 16, 2012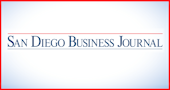 California Pacific Airlines, a new startup carrier that plans to begin passenger flights later this year out of Carlsbad, announced Feb. 6 that it has passed Phase I of the Federal Aviation Administration's certification process.
Airline officials have said that if the carrier receives full certification by spring 2012, it could begin service by this summer. The full certification process spans four phases, according to the FAA.
The first phase involves the agency's review of management's qualifications to operate an airline, arrangements to lease or purchase equipment and facilities, and safety and operating manuals. Subsequent phases cover issues including aircraft setup and service practices.
"This is an important milestone for FAA certification, which is one of the most stringent in the world of commercial aviation," said founder and Chief Executive Officer Ted Vallas, in a statement by California Pacific.
The local company has been preparing to begin service during the past two years. Once certified, the carrier plans to operate from the county-run McClellan-Palomar Airport, with daily nonstop flights to San Jose, Oakland, Sacramento, Las Vegas and Phoenix.
"We have leased our first two planes, Embraer 170s, which should arrive in the spring so we can begin flight-crew training," Vallas said.
— Lou Hirsh