Region Is Ready for IT Health Care Cluster
Monday, February 13, 2012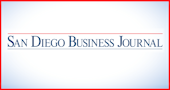 San Diego has a chance to do what it has done so well in biomedicine and wireless technology, this time developing a regional cluster of stakeholders in the rapidly advancing field of health care information technology. Fostering a cluster of innovation around health care IT will generate jobs and prosperity for the region.
San Diego has organizations with proven track records, such as Connect, in forming economic clusters locally and internationally.
The timing could not be better. The nation's health care providers are pursuing ambitious goals to convert patient health records from paper to digital. San Diego is ahead of the curve. Our hospitals, clinics and physicians have adopted Electronic Medical Records, EMR, at a swifter pace than much of the nation. UC San Diego Medical Center and Kaiser Permanente have achieved the highest level of EMR adoption, according to Healthcare Information Management and Systems Society Analytics.
Our region's other hospitals are well underway in EMR adoption. Sharp HealthCare's Chief Information Officer Bill Spooner was chosen as CIO of the Year just two years ago by the nation's leading health care IT organizations, the College of Healthcare Information Management Executives (CHIME) and HIMSS. Scripps Health's Eric J. Topol, a world-renowned cardiologist and physician-scientist is launching a book addressing the convergence of the digital revolution and medicine. And, a team at Palomar Pomerado Health has unveiled an app for smartphones and wireless tablets that provides doctors with real-time patient information.
Financially, our region has earned one of only 17 Beacon awards issued by the Office of the National Coordinator for Health IT. This multimillion-dollar grant is helping enable providers to share health data privately and securely in order to improve patient care. In addition, ten local community clinic organizations are among just 85 community health centers nationwide to earn $100,000 grants from the federal government to support adoption of health information technology.
San Diego has other health care IT feathers in its cap, and more advances come daily. Local telecommunications giant Qualcomm has gone headlong into the health and life sciences markets. Similarly, locally based Gary & Mary West Wireless Health Institute fosters affordable health care through wireless technology.
As outlined in UC San Diego Extension's Healthcare IT Research Report 2011, funded by the San Diego Workforce Partnership, now is the time to create a regional platform for strategic discussions among four broad stakeholder groups: the research community, the entrepreneurs and their investors, government and policymakers, and the educators and workforce trainers.
Such regional clusters work. Over the past two decades, San Diego has ignited major economic engines in wireless and biomedical research with UC San Diego creating the essential collaborative spark.
A health care IT innovation cluster here will accelerate disease diagnosis, effective sharing of patient information among providers at diverse locations, and empowerment of caregivers and patients to better understand their conditions.
Our region needs more jobs. We need an additional economic engine to bring about competitiveness and prosperity. Much of the road map already has been drawn, and a clear opportunity exists at the intersection of health care, biomedical research and information technologies.
Chuck Flacks is director of research and policy for San Diego Workforce Partnership.  Hugo Villar, is director of life sciences programs at UC San Diego Extension. Leslie Bruce is director of health care leadership at UC San Diego Extension.