Armani Opens First Local Store at Fashion Valley
Tuesday, February 7, 2012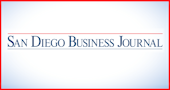 Italian fashion and luxury goods retailer Giorgio Armani Group has opened its first San Diego County location of Emporio Armani at Fashion Valley mall.
A Feb. 7 release by the retailer said the 3,440-square-foot store, at 7007 Friars Road, Suite 1010, is located on the mall's lower level, adjacent to several other luxury retailers. The store sells clothing, handbags, leather goods, eyewear, watches, jewelry and other accessories.
Items are displayed on crystal-clear glass fixtures, and undulating walls near the front of the boutique lead to a rotunda anchored by a women's shoe salon. The store offers apparel for women and men, including formal and casual items.
The retailer, with headquarters in Milan, makes and sells luxury goods through 12 factories and more than 650 stores worldwide.
— Lou Hirsh