Outlook for S.D. Economy Stays Positive for 2012
Monday, February 6, 2012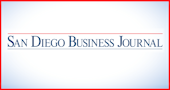 An index measuring San Diego's economy increased by 0.6 percent in December, the largest rise since May, and the first time since then that it showed gains in consecutive months, according to a recently released report.
The University of San Diego's Burnham-Moores Center for Real Estate's Index of Leading Economic Indicators for San Diego County showed higher increases among the data points, led by a 0.83 percent increase in the index for the nation's leading economic indicators.
The sole component that fell was local stock prices, down by 0.01 percent. Solid gains in the number of building permits issued by the county, a consumer confidence index, help wanted advertising linage, and fewer initial claims for unemployment insurance prompted a more optimistic view for the rest of 2012 from Alan Gin, the USD professor who compiles the data.
"Given the back-to-back gains in the USD index and the breadth of December's gain, the outlook for the local economy remains positive for 2012," Gin said.
Things that may impede the economy are continued weakness in the housing market, political conflict in an election year, and uncertainty in the international economy, Gin said.