TECHNOLOGY: LOCAL FIRM HELPS WEST WIRELESS DEVELOP 1ST DEVICE
Collaboration Delivers on Pregnancy Care
Monday, February 6, 2012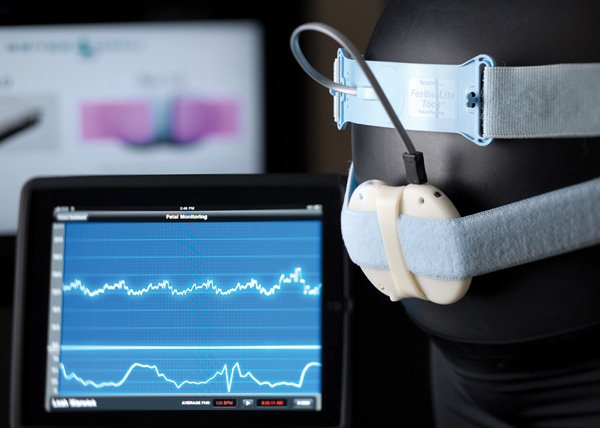 Two local organizations, the West Wireless Health Institute and DD Studio, have teamed up to develop a device that could provide better care for expectant mothers in Mexico.
The West Wireless institute of San Diego will be using a hand-held portable wireless device called Sense4Baby in a yearlong research study with the Carlos Slim Health Institute in Yucatan, Mexico. DD Studio in Carlsbad collaborated with West Wireless on the design of the device, which measures such things as a baby's heartbeat and a mother's contractions, and allows doctors to perform maternal and fetal monitoring anywhere that there is cellular service using a tablet or smartphone.
The first experimental wireless device being spun out of WWHI will be integral in determining how preventive monitoring technology can be used to lower health care costs by mitigating adverse outcomes associated with high-risk pregnancies.
George Zamanakos, senior vice president of WWHI, a nonprofit medical research organization that strives to lower health care costs through technology and innovation, said West Wireless developed the concept and the technology behind Sense4Baby.
Extending Reach of Patient Care
"After some time of collaboration and innovation we are very pleased we're out in the field for the first time," he said, noting that the research will help provide a clear perspective on the use of the technology by health care professionals as they determine whether they can deliver high quality care at reduced costs. "This is a great opportunity to leverage common goals and to extend the reach of patient care anywhere."
Working on devices such as Sense4Baby is nothing new for DD Studio, which provides strategic design and product development to companies in the high-tech, medical, wireless and commercial markets.
DD Studio worked with San Diego-based Sotera Wireless on designing its ViSi Mobile System wristband monitor and body sensors that continuously monitor a person's basic vital signs such as blood pressure and heart rate, and transmits the data wirelessly to any location with a Wi-Fi network connection.
DD Studio Chief Charles Curbbun said his staff spent more than two years designing the product, which aims to create such benefits as increased patient safety and comfort, improved treatment efficiency for the nurse and fewer unplanned re-admissions at the hospital.
Design Challenges
One of the design challenges DD Studio faced during ViSi Mobile's development was making it easy to sterilize. Because ViSi Mobile can be used interchangeably on patients, it was important that there be no cracks or crevices where bacteria could build up and lead to infection.
"In the end we're trying to make it as simple as possible, but part of making it simple involves complex engineering," said Curbbun, whose firm creates mockups using environmentally safe material made by Malama Composites.
Gunnar Trommer, vice president of marketing for Sotera, said DD Studio was selected several years ago to design the ViSi Mobile because the company has experience in the medical industry and other sectors.
Trommer said ViSi Mobile, which is designed to provide a safety net for patients who would typically have their vital signs checked every four hours, is in clinical trials and awaiting U.S. Food and Drug Administration clearance, which is expected in the near future.