MEDICINE: IT WILL BE IN PHARMACIES THIS MONTH; HUGE SALES ARE PREDICTED
Amylin's Once-Weekly Diabetes Drug Is Approved
Monday, February 6, 2012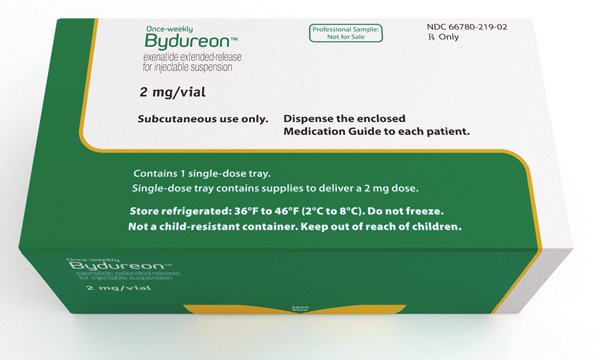 Third time's a charm for San Diego-based Amylin Pharmaceuticals Inc.
The company said that the U.S. Food and Drug Administration approved its drug Bydureon, the first once-weekly injection to treat type 2 diabetes.
It's a victory for the company — which the FDA had turned down twice in 2010, asking for more information — as well as for people with diabetes, who have a new option for keeping their blood-sugar levels in check that doesn't involve daily injections.
"This can be a major advantage, especially for compliance, as diabetics can now take just one shot per week compared to seven," John McCamant, editor of the Berkeley-based Medical Technology Stock Letter, said in a special update following news of the approval.
The drug will be in pharmacies this month, Amylin said in a joint statement with its Dublin, Ireland-based development partner Alkermes Plc.
Bydureon works with the body to help make its own insulin when needed, providing continuous blood-sugar control. Each dose is made up of biodegradable microspheres that provide a controlled release of exenatide throughout the week, the company said. The long-acting formulation is enabled by Alkermes delivery technology.
Bydureon will compete primarily against a daily injection drug called Victoza, made by Denmark's Novo Nordisk S/A. Both therapies belong to the growing GLP-1 class of diabetes drugs that stimulate the release of insulin when a person's blood sugar gets too high, McCamant said.
He noted that Victoza global sales are currently at a $1 billion-plus per year, and U.S. sales already exceed $600 million just two years into the launch.
Analysts say that sales of Bydureon could come close to $1 billion by 2016.
Addressing a Major Market
Nearly 26 million Americans have diabetes — and worldwide, the number surpasses 350 million, according to the Centers for Disease Control and Prevention.
In the U.S., diabetes costs more than $174 billion per year in direct and indirect medical expenses, according to the American Diabetes Association. The association also cites indirect costs stemming from absenteeism, reduced productivity and early mortality.
"Bydureon represents an important milestone in Amylin's promise to bring to market innovative therapies to help improve the lives of people with type 2 diabetes," Daniel M. Bradbury, Amylin president and CEO, said in a company statement.
Bydureon comes in a straightforward single-dose tray so that patients can self-administer the injection, Amylin said.
Amylin submitted a New Drug Application to the FDA for Bydureon in May 2009, kicking off a lengthy back-and-forth process that left many analysts guessing about the outcome. The FDA issued two complete response letters in March 2010 and October 2010, saying more data was necessary before it could approve the drug.
Amylin gained European Union marketing authorization for the drug in June 2011. Bydureon is a once-weekly formulation of exenatide, the active ingredient in Amylin's other diabetes drug Byetta, which has been available in the U.S. since June 2005 and is used in more than 70 countries worldwide to improve blood-sugar control in adults with type 2 diabetes.
Still Looking for a Partner
In November, Amylin announced that it would be cutting ties with its decade-long commercialization partner Eli Lilly and Co. and taking on full control of its exenatide diabetes drug franchise, which includes the drugs Bydureon and Byetta.
The move was generally seen among analysts as a positive move; Amylin had filed a lawsuit against Lilly in May, alleging anti-competitive activity after the Indianapolis-based pharmaceutical giant entered into a marketing deal with Germany's Boehringer Ingelheim GmbH to sell a competing diabetes drug. That litigation was resolved through the companies' agreement to part ways.
An Amylin company spokeswoman said that the company has received "very strong interest in the exenatide franchise from key pharmaceutical players."
The plan, she said, is to have a partner in place so that the company "can transition responsibility for the commercialization of Byetta injection and Bydureon from Lilly by the end of 2013."
Amylin's stock price rose steadily in the days after the FDA approval, from $12.14 per share on Jan. 27, before the market had reacted to the news, to $15.57 per share on the afternoon of Feb. 1. Shares, which trade on Nasdaq, have ranged from $8.03 to $16.58 over the past year.