DexCom, Tandem to Develop Insulin Pump
Friday, February 3, 2012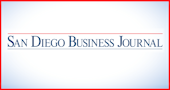 Two San Diego medical device companies, Dexcom Inc. and Tandem Diabetes Care, on Thursday said they'll be teaming up to develop and commercialize a new diabetes health care product that will incorporate technology from both companies.
Tandem will integrate DexCom's continuous glucose monitoring system into its own t:slim Insulin Delivery System, the companies jointly said. Under the terms of the deal, Tandem will pay DexCom a $3 million technology license fee and reimburse DexCom for its development, clinical and regulatory expenses.
Upon commercialization of the combined system, Tandem will pay DexCom a royalty of $100 for each continuous glucose monitoring-enabled insulin pump sold.
"Creating a modern, integrated insulin delivery system with DexCom's future generation sensor aligns with our philosophy of listening to people with diabetes and developing products to support their needs," Tandem President and CEO Kim Blickenstaff said in a statement.
A Tandem spokesman said the new product will need to go through the U.S. Food and Drug Administration's 510(k) review process for medical devices. A timetable for development and FDA submission is not yet public, he said, nor is the expected cost of the product.
Combining an insulin pump and glucose monitor into one device simplifies treatment for diabetics and soon will be the standard of care, the Tandem spokesman said.
There's currently only one other pump on the market that offers both functions — the Medtronic Paradigm. But that may change soon. DexCom entered into a research and development agreement with Roche Diagnostics U.S. in November to integrate glucose monitoring into its Accu-Check insulin delivery system.
Tandem late last year gained FDA approval for its t:slim Insulin Delivery System. The pump is the first-ever with a color touch screen, and is the smallest insulin pump system on the market.
— Kelly Quigley