AEROSPACE: VST EARNS COMMERCIAL AND GOVERNMENT CONTRACTS
Satellite Structures Delivered in Highly Competitive Atmosphere
Monday, December 31, 2012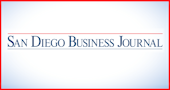 Despite the ups and downs of the U.S. economy, San Diego remains a region of world-class manufacturing capabilities.
Some of that manufacturing is literally out of this world.
Carroll Canyon-based Vanguard Space Technologies Inc., or VST, designs and builds high-performance, lightweight and precision aerospace structures; the structures, made of composites, contain the innards of satellites, as well as related components.
In 1994, workers from defense contractor General Dynamics started the company as a SBIR, or a federal government-funded small-business innovative research program, said Duane Krumweide, business development manager for the company.
"The people who started it were concentrated on missile defense technology, to get more composite materials into interceptor missiles for national defense," Krumweide said.
"That evolved over the years into a space business beginning about the year 2001. Now we're almost solely concentrated on the space business.
"We make the bus structure, or box, as well as everything that hangs off of it," he said.
These boxes range in size from 36 inches to 192 inches tall, and house and protect most of the electronic innards of the satellite.
In addition, the company makes solar array substrates, tubes, struts, booms and masts, as well as antenna and radiator panels.
"We're focused on the structural side — we don't get involved in the electronics, such as the sensors," Krumweide said.
The company also makes antenna reflectors, which relay signals to the Earth.
"Those are more of a precision structure, but still an important structural element in the spacecraft," he said.
Each satellite contains two to four of the reflectors, as well as solar arrays or panels that contain the solar cells that convert sunlight into electric power.
Krumweide noted that it used to cost $10,000 a pound to send a satellite in orbit, and beyond, so the composites used in the construction of satellites are strong but very light in weight compared with metal.
Pounds Are Money
"If you save a pound, you save $10,000 bucks," he said, noting that the metric has changed, but the fact remains that it still is very costly to shoot several hundred pounds of satellite into orbit.
"You only have so much fuel, but you have to put something far out into space, so if you need to go to the moon or Mars, then the math becomes even more critical," Krumweide said.
Farhad Habibi, mechanical antenna systems manager for Orbital Sciences Corp., said VST has contributed to that firm's antenna product line, which includes using VST reflectors.
He said the company has been acquiring about two to three antenna projects a year, which require 11 to 17 months to manufacture.
In fact, Orbital accounts for about 35 percent to 40 percent of VST's business.
"These are low mass, low weight, and very accurate in terms of their dimensions," he said. "We give them the specifications, and then, using those specifications, they design it, test it and then fabricate it, which we put through a very difficult phase of testing."
VST employs about 135 workers in a facility located off Miramar Road.
More Space
The business will add 25,000 square feet of space to its 80,000-square-foot space in 2013.
To keep its competitive edge, VST recently announced the addition of a stainless-steel testing chamber to allow the company to perform vacuum, temperature and distortion testing at its state-of-the-art assembly, integration and test facility.
The thermal vacuum chamber will be ready to go in 2013.
Los Angeles-based private equity firm Nogales Investors is a majority investor in the company.
Revenues have grown from less than $5 million in 2001 and 2002 to more than $30 million in 2012.
VST's business is roughly evenly divided between commercial and government contracts, Krumweide said.
"Last year might have slightly slanted toward the defense side," he said. "There weren't many communication satellites put up last year."
Krumweide said one of the biggest areas of growth has been in the construction of antenna reflectors.
Habibi said competitors include ATK Space Systems, a unit of ATK based in Northern Virginia, with a facility located in the same Miramar neighborhood in San Diego. He said that other competitors can be found in Canada, France and Spain.
"Because of their (VST's) low overhead, they're pretty good with pricing," Habibi said. "So, they've been very competitive. They've acquired a lot of our work over challengers, including the guys right down the street.
"They've paid their dues, and have come a long way to get to where they are," Habibi said. "I think in the next five to 10 years, they are going to be very successful."