MOGL Goes on a Mission to Fight Hunger
Friday, December 21, 2012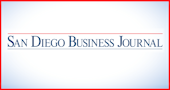 MOGL, a locally based restaurant loyalty service, recently announced that the company donated 200,000 meals through their Meal for a Meal Program to Feeding America.
The Meal for a Meal program works by automatically donating one meal to Feeding America San Diego each time a MOGL user spends more than $20 at a participating restaurant.
"We are very pleased with our partnership with MOGL," said Gavon Morris, marketing and communications manager for Feeding America San Diego. "We rely on the support from generous corporations like MOGL, as well as individuals and foundations, to fund our critical hunger-relief programs."
The company donated more than 100,000 meals in August, and reached 200,000 meals donated four months later in December. The company goal for January is to donate 213,000 meals.
"The original idea behind MOGL was to create a loyalty system that would help restaurant owners, reward customers and give back to the community," said Zach Hill, vice president of marketing for MOGL. "Feeding America has been the perfect partner to make MOGL's charitable goals a reality."
MOGL, launched in 2010, is a restaurant loyalty platform that offers users 10 percent cash back when they eat at participating restaurants in addition to the Meal for a Meal donation program.
Users can track the number of meals they have donated through their user profile. The company keeps a running tally on their website of all meals donated.
The privately held company has both a Web-based platform and smartphone apps for iPhone and Android.
— Emily Pippin