PROPERTY: BUSINESS ACTIVITY SEEN AS KEY TO REVITALIZING THE AREA
Grocery Store Expected to Draw a Retail Crowd
Monday, December 17, 2012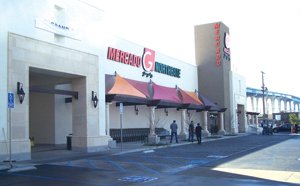 The last pieces are falling into place for the long-awaited, $80 million mixed-use Mercado del Barrio development in San Diego's Barrio Logan, which recently saw the opening of a new apartment complex and the neighborhood's first major grocery store.
Anaheim-based Northgate Gonzalez Markets, a fast-growing grocery chain that caters to the Latino community, has opened a 36,000-square-foot store at the development, its eighth in San Diego County. It is expected be joined in early 2013 by several more businesses that will fill out another 35,000 square feet of completed retail spaces.
Kevin McCook, development and acquisitions manager in the San Diego office of the project's master developer, Shea Properties, said landing the grocer was crucial to enticing other merchants to join the development, and talks are ongoing with several potential tenants, which are expected to be announced after the first of the year.
They will possibly include restaurants, a coffee shop, an ice cream or yogurt shop, a tax preparation service and other retail and service businesses, such as dry cleaners.
The 6.8-acre Mercado del Barrio broke ground last year, after more than two decades of delays caused by financing issues, legal disputes and required revisions. Several older commercial buildings were demolished in the mid-1990s to make way for Mercado, in a blighted area off Cesar E. Chavez Parkway near Chicano Park and the San Diego-Coronado Bridge.
Shea Properties, which has spearheaded planning for the past seven years, and its partner developers are looking for Mercado del Barrio to spur other economic activity throughout the historic southeastern San Diego neighborhood.
"This is definitely meant to be a catalyst project," McCook said. "You can already see it in the landscaping and fountains and other things that are now in place."
Landscaping, walkways and other on-site elements are complete, and San Diego City Council recently approved a business improvement district — similar to those used in places like Little Italy — in which Barrio Logan commercial property owners will support long-term maintenance and improvement projects. The Port of San Diego soon will be installing a Barrio Logan welcome sign, similar to those that adorn other local neighborhoods.
Carl Middleton, president of Northgate Gonzalez Real Estate, an affiliated company of the privately held grocery operator, said the new store is the firm's first ever to carry the name of the development in which it is located — Mercado Northgate.
"Barrio Logan has a very rich history, and we felt it was important to incorporate that into the planning for this store," Middleton said. "This neighborhood has been waiting 20 years for a grocery store, and we've been working for five years on this project."
Northgate was founded in 1980, and its 36 stores are located across Orange, Los Angeles and San Diego counties — most often in neighborhoods not otherwise served by traditional big-chain grocers. The stores have departments offering fresh produce, meats, tortillas and baked goods, along with packaged staple goods and specialty items.
The company opened a City Heights store in late 2011, and Middleton said it is scouting potential sites for expansion in San Ysidro, National City, Oceanside, El Cajon and Spring Valley.
The first customers of Northgate and upcoming merchants include on-site residents of the recently completed, fully leased Estrella del Mercado Apartments, a $43 million, 92-unit affordable housing complex developed by Carlsbad-based Chelsea Investment Corp. and the San Diego Housing Commission.
The housing commission invested $7.1 million to acquire the land for the apartments at Mercado del Barrio, and provided a loan to Chelsea toward development. The housing commission will have the option to buy the property after a 15-year tax-credit compliance period, according to a commission statement.
Apartment operators said the units at Estrella del Mercado, restricted to families with incomes at 30 percent to 60 percent of the San Diego area median income, were leased out in less than two days.