Local Investor Purchases Lakeside Lots for 200-Home Development
Friday, December 14, 2012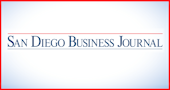 Local developer Dan Floit has purchased four residential lots in Lakeside, totaling 26.37 acres, for a planned development of 200 single-family homes and attached twin homes that will be available for lease.
The price of the lots, within a development currently known as Settlers Point, was $4.25 million, according to a statement from brokerage firm CBRE, which represented the buyer and seller, Odom Family LP. Floit plans to rename the project Jackson Ridge.
In 2010, Floit paid $3.92 million for The Pointe Mountain Top, a 15.8-acre gated residential community in Spring Valley, consisting of 24 town homes and 87 finished lots. That property was renamed Jackson Pointe, and Floit developed an additional 87 townhomes, with the project currently 99 percent leased.
Floit plans to follow the Jackson Pointe model for the new Lakeside development, the statement said. The site is one block southwest of Los Coches Road, near Interstate 8.
Construction is scheduled to begin in August, with completion and move-ins to take place by spring 2015. RQL Construction is the general contractor.
— SDBJ Staff Report