Westfield Helps Build Community Rather Than Just Retail
Monday, December 10, 2012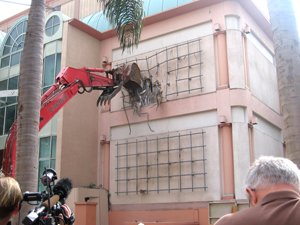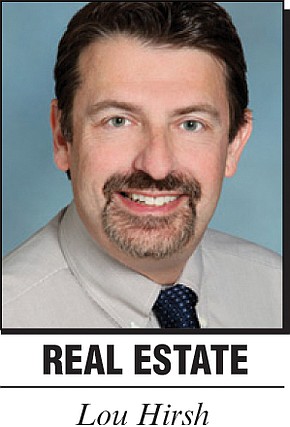 Just before excavating equipment tore into the front of the former Robinsons-May building at Westfield Horton Plaza — kicking off work on a new downtown public-square park — a top executive of Westfield Group said the project marks a potential first for the global mall giant.
Bill Hecht, senior executive vice president of U.S. development for Westfield, noted that to his knowledge, Australia-based Westfield Group — which owns seven San Diego County malls and more than 100 worldwide — has never before given up a large retail building for nonretail purposes in its more than 50 years in business.
"This is the first time in the U.S. and, as far as I know, globally that we've done this type of transaction," said Hecht, among several local and regional dignitaries speaking at the recent groundbreaking for the $14.7 million park project.
Demolition of the 130,000-square-foot building will continue over the next few months, as work proceeds on the new 1.5-acre urban plaza expected to open in early 2014. Once the building has been completely removed, by around April, restoration of the existing Horton Plaza and its iconic fountain will move forward.
Westfield agreed to demolish the former Robinsons building — which later housed a Planet Hollywood and more recently a Sam Goody's music store among other retailers over the past decade — and transferred ownership of the land to the city. The mall owner will maintain the new park for 25 years, and will also program approximately 200 public events annually.
Westfield has said it will also invest in additional improvements aimed at re-orienting the five-story Westfield Horton Plaza so that it faces outward toward the neighboring public plaza and nearby Gaslamp Quarter, giving it less of a fortresslike presence separate from its surroundings.
Ceremony speakers included former mayor and California Gov. Pete Wilson, incoming Mayor Bob Filner and outgoing Mayor Jerry Sanders.
Sanders noted that he was speaking from a spot at Horton Plaza where the city once parked police cars — during a time when there was much to police in the neighborhood before Ernest Hahn developed the retail mall in the mid-1980s. Hahn's work in turn was among a series of projects over the decades aimed at revitalizing a civic focal point dating back to the late 1800s, when land for the plaza was acquired from city founder Alonzo Horton.
"This project will provide an economic boost to the surrounding area, continue the redevelopment that began four decades ago, and ensure that Horton Plaza Park remains an exciting part of San Diego's bright future," Sanders said.
• • •
Apartments Under Way at Spectrum Center: Locally based Sunroad Enterprises and Wermers Properties recently broke ground on Ariva, a high-end, 253-unit apartment community, which will be the newest residential elements at the mixed-use San Diego Spectrum Center in Kearny Mesa.
The developers did not provide details on the expected cost of the project.
Ariva will include apartments in two buildings, located at the intersection of San Diego Spectrum Boulevard and Ariva Way.
Sunroad's real estate division owns and manages more than 2 million square feet of retail, office and residential space around San Diego County and it also has an auto sales division with 11 dealerships in San Diego and Mexico.
Wermers has developed and built several apartment communities locally and elsewhere in California during the past 50 years.
• • •
Sorrento Mesa Office Complex Changes Hands: San Diego-based investment firm BCL Inc. and AEW Capital Management LLC of Boston have acquired the One Pacific Heights office building in Sorrento Mesa. The price was $34.1 million, according to CoStar Group.
A statement from BCL Inc. said the five-story, 120,350-square foot building, at 9920 Pacific Heights Blvd., was built in 1989 and completely renovated in 2007. The seller in the transaction was RREEF America LLC, and the buyers and seller were represented by brokerage firm Cassidy Turley San Diego.
BCL owns and manages a portfolio of office and industrial buildings throughout Southern California and Arizona, totaling 1.2 million square feet. Its other local holdings include the Bank of America Tower, at 450 B St., in downtown San Diego.
• • •
Armory Gets New Landlord: A Sorrento Valley industrial building housing a U.S. Army Reserves armory has been acquired by locally based Peckham Family Trust for approximately $7 million, according to CoStar Group. The seller was Marquis Property Co. of Malibu.
Send commercial real estate and development news of general local interest to Lou Hirsh via email at lhirsh@sdbj.com. He can be reached at 858-277-8904.