UTC Tower Developer Gets $188M in Financing
Thursday, August 30, 2012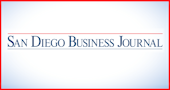 A joint venture that includes Houston-based developer Hines and institutional investors advised by J.P. Morgan Asset Management has obtained $188 million in senior financing for the La Jolla Commons campus at University Towne Center, where construction is under way on a second office tower.
A statement from Jones Lang LaSalle's Capital Markets division, which arranged the transaction, said Wells Fargo provided the single loan for the campus, which includes an existing multitenant office building and a second tower under construction since April.
"This was an interesting loan to secure as it had a number of potential outcomes, with multiple lenders vying for either the debt or the construction financing or some combination of the two," said JLL Executive Managing Director Mike Melody, one of four JLL personnel overseeing the transaction.

Exact loan terms were not disclosed. Melody said strong sponsorship and strengthening market fundamentals attracted several potential lenders.
La Jolla Commons includes an existing 13-story office building, completed in 2008 and currently 88 percent leased, the statement said. Work is under way on a second 13-story tower, set for completion in 2014 and 100 percent pre-leased to LPL Financial.