Sequenom to Distribute Tests in Europe, Asia
Wednesday, August 29, 2012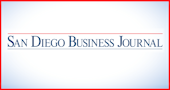 San Diego-based Sequenom Inc. is expanding access to its prenatal testing services outside the U.S.
Sequenom's local subsidiary, the Sequenom Center for Molecular Medicine, has completed several international distribution agreements that will broaden access to the MaterniT21 Plus testing service in Asia, Europe and the Middle East. Agreements in Asia cover Japan and Hong Kong; agreements in Europe cover the Czech Republic, Slovakia and the Netherlands; and agreements in the Middle East cover Israel.
Allan Bombard, chief medical officer for Sequenom, said the company launched MaterniT21, a noninvasive prenatal test for fetal chromosome abnormalities using maternal blood, last October. The blood test targets trisomy number 21 to detect Down syndrome, trisomy 18 to detect Edwards syndrome, and trisomy number 13 to detect Patau syndrome. The test can also be used to identify a baby's gender, which is useful in pregnancies that are at risk for disorders that are more common in boys. Available as early as 10 weeks of pregnancy, MaterniT21 can be used as an alternative to an invasive procedure such as an amniocentesis, or as a precursor to an invasive procedure when a MaterniT21 result is positive.
Sequenom Center for Molecular Medicine has processed nearly 27,000 MaterniT21 Plus test samples since the beginning of the year, according to the company.
Bombard said competitors are offering similar tests in the U.S., but so far not outside the U.S.
The announcement of the international distribution agreements follows recent news that Sequenom's current licensee in Europe, LifeCodexx, gained CE Marking for their trisomy 21 test, the PraenaTest, using the Sequenom-licensed technology and has made it available as a testing service at prenatal clinics and hospitals in Germany, Austria, Liechtenstein and Switzerland. The CE Mark means the company is declaring that the product complies with the essential requirements of the relevant European health, safety and environmental protection legislation.
"We believe the completion of these international agreements represents an important advance in access to and future adoption of our technology in the international prenatal care market," said Harry F. Hixson Jr., chairman and CEO of Sequenom, in a statement. "We look forward to working closely with each of our partners in these countries and to continuing our efforts to further expand access for expectant parents around the world."