ADVERTORIAL: HOLIDAY PLANNING GUIDE SUPPLEMENT
Using Social Media to Maximize Your Holiday Event Experience
Monday, August 27, 2012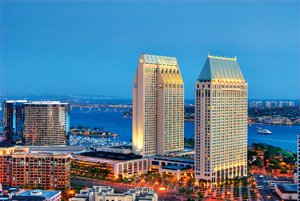 'Tis the season for holiday parties and you're making the list (and checking it twice) of "must haves" at this year's bash. Beautiful bay front location at the Manchester Grand Hyatt San Diego? Check. Award winning cuisine? Check. Top notch service and ambiance? Check. Social Media Strategy…hmm? Why not take your Holiday Party viral this year so the fun may be enjoyed long after the last glass of champagne is poured? Use these five helpful tips to "socialize" your Holiday Party this year:
Create online invitations. Websites like www.paperlesspost.com and www.hallmark.com have fun, innovative and free options to send a festive invitation to your employees and clients.
Distribute a survey to your employees or clients who will be attending the holiday party asking them for their input to make the night a huge success. What type of cuisine would tickle their palate? Suggested local charities to involve with the event? Ideal theme, music or décor? The website www.surveymonkey.com offers a free survey tool that is easily distributed to your guest list or consider posting questions on your company's Facebook wall and encouraging feedback in the form of comments.
Create an "Event Hashtag" so partygoers can communicate before, during and after the event via Twitter. If your company is big on Twitter you may even consider working with the Manchester Grand Hyatt's PSAV team to create a live "Mingle Stream" that displays all tweets incorporating your party's hashtag. (i.e. "Just arrived at the #ABCHolidayBash at the @ManchGrandHyatt – this Grand Lobby is incredible!")
Hire a professional photographer to capture the evening's best moments and post an album on your Facebook and Flickr pages. Encourage employees and clients to tag themselves in the photos. You're not only creating memories of the event, but you're also putting your company name in front of all of your guests' contacts on these social networks.
Blog about the festivities on your company page. Leading up to the party, get your company and clients excited for the party as you blog about all the details you're confirming with the Manchester Grand Hyatt's staff. We'll also allow you access to our photo library so you may post some scenic photography of the hotel and the gorgeous views of the San Diego Bay. After the event, create a blog recap of the night's most memorable events and encourage comments from your guests.
Submitted by Kristin Helms, Electronic Sales and Marketing Manager at the Manchester Grand Hyatt San Diego – the tallest waterfront hotel on the West Coast.