TECHNOLOGY: EUROPE'S WOES DRAG ON NET INCOME
China Gives Maxwell A Welcome Sales Jolt
Monday, August 27, 2012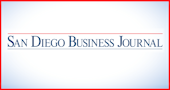 MAXWELL TECHNOLOGIES INC.
CEO: David Schramm.
Revenue: $157.3 million in 2011; $121.9 million in 2010.
Net income: $849,000 in 2011; net loss of $6 million in 2010.
No. of local employees: 250.
Headquarters: Kearny Mesa.
Year founded: 1965.
Stock symbol and exchange: MXWL on Nasdaq.
Company description: Designer and manufacturer of energy storage and power delivery products.
Key factors for success: Its key product, the ultracapacitor, is seeing strong demand in a number of industries including bus and rail transportation and wind generation.
Europe's economy may be hurting, but China is still growing and that bodes well for Maxwell Technologies Inc., which turned in a solid second quarter.
In its report given earlier this month, Maxwell, the San Diego maker of energy storage devices called ultracapacitors, said it did nearly $41 million in revenue, up 6 percent from the prior year's second quarter, despite a slowdown in orders from key European customers.
Net profit came in at $2.7 million, compared with a net loss of $1.2 million in the like quarter of 2011.
Maxwell CEO David Schramm said the company's results were constrained by an ongoing recession that has gripped much of Europe for most of the first half, and is expected to continue through the end of 2012.
"The European economic situation has slowed down the overall market for us," Schramm said. "Europe is just not doing what we thought two years ago that it would be enjoying."
Schramm said while things didn't pan out as anticipated in Europe, the company is seeing growing demand for its ultracapacitors from the makers of hybrid electric buses in China. Much of the sales are driven by the Chinese government's direct subsidies to reduce its escalating air pollution problems in cities. Schramm cited an announcement by the government to expand the program to other cities, although he couldn't say how many.
Converts Kinetic Energy
Maxwell's main product is a device that permits quick storage and delivery of energy. The components are contained in a variety of products, including hybrid braking systems that convert kinetic energy that occurs when vehicles brake into stored electrical energy that's tapped when the buses restart.
After the company announced its first quarter results in late April, and had a better feel for what was occurring in Europe, Maxwell reduced its initial forecast of 20 percent revenue increase to a range from 15 to 20 percent above what it did in 2011, or at least $180 million.
That news sent shares of Maxwell off a cliff, plunging from above $18 to below $10. It reached a 52-week low in late July of $5.81 before rebounding, and gaining ground following the second quarter results. At Aug. 21, the stock, traded under MXWL on Nasdaq, closed at $8.05, giving it a market capitalization of $231 million.
Schramm said the stock swoon earlier this year was tough on both investors and Maxwell employees, including many who continue to purchase shares. "We are believers," Schramm said. "This is a growing, profitable company and a world leader in energy storage products and technology. Maxwell's best days are ahead of us," he said.
China Is Half of Revenue
In his presentation, Schramm noted higher ultracapacitor sales were also being driven by increased demand from wind turbine manufacturers, notably in China.
The wind component sales got soft in late 2011, but have gradually come back, he said.
China's overall sales accounted for about half of all of Maxwell's revenue in the second quarter. For all of its sales, about 80 percent are derived from outside the United States, the company said.
Another key product, called high-voltage capacitors that are contained in electric utility infrastructure, is also seeing some traction. About a year ago, Maxwell said it got a contract to supply the high voltage capacitors to Russia for a multibillion-dollar modernization of its electrical grid.
That should generate a couple of million dollars in annual sales over the next four years, said Maxwell spokesman Mike Sund.
Michael Lew, an analyst covering the company for Needham & Co., said in his most recent report that Maxwell numbers look good, and gave it a buy rating.
"In our view, the long term fundamentals are very favorable for Maxwell Technologies given the various end-markets that can leverage its high performance ultracaps," he said.
Zach Larkin, an analyst with Stephens Inc., said Maxwell's sales forecast of 15 to 20 percent implies $185 million at midpoint, but he estimated it will finish the year at $176 million to $181 million. Larkin maintained his overweight rating, meaning buy, but reduced the price target over the next 12 months from $15 to $12.