Air Force Orders $87M in Unmanned Aircraft Upgrades
Wednesday, August 22, 2012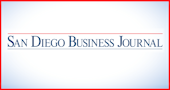 General Atomics Aeronautical Systems Inc. of Poway recently received an $87.3 million contract to retrofit up to 80 U.S. Air Force Reaper unmanned aircraft, applying heavier landing gear and modified bomb racks.
The deal includes retrofit kits as well as installation. Work on the aircraft will be performed in San Diego County through the summer of 2016.
The Reaper is the advanced, heavier model of the Predator aircraft, which can stay in the air more than 24 hours. It can serve as a spy aircraft or deliver weapons.
A U.S. Defense Department announcement described the contract as a firm fixed price, cost plus fixed fee deal.