Carmel Valley Retail Center Sells for $40.8M
Tuesday, August 14, 2012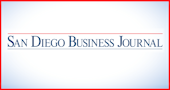 Real estate investment firm Donahue Schriber of Costa Mesa has purchased the majority of the 107,000-square-foot Del Mar Heights Village shopping center in Carmel Valley.
The purchase price was approximately $40.87 million, according to Bruce Schiff, a managing director with Cassidy Turley San Diego who represented the buyer. The seller, C.W. Clark Inc. of La Jolla, represented itself.
The center was built in 1975 and renovated in 2000, according to CoStar Group. It is located at 2602-2690 Del Mar Heights Road, west of Interstate 5.
The transaction involves approximately 60,000 square feet of retail and office buildings at the center. A statement from Donahue Schriber said two of the center's anchor tenants — Vons and CVS Pharmacy — are in separately owned buildings that are not part of the acquisition.
The property has 31 tenants, including Del Mar Wine Company, O'Brien's Bakery, Navy Federal Credit Union and Frames Del Mar.
Donahue Schriber officials said the center will be operated by the management team of its nearby Del Mar Highlands Town Center, which recently underwent a $20 million renovation. Chairman and CEO Pat Donahue said the company will be "analyzing opportunities to enhance" its latest acquisition.
This is the third San Diego County acquisition for Donahue Schriber in the last 14 months, the statement said. The company also owns and manages Poinsettia Village in Carlsbad and Bonita Centre in South County, and also manages Clairemont Town Square in San Diego.
— Lou Hirsh