Real Estate Roundup
Monday, August 13, 2012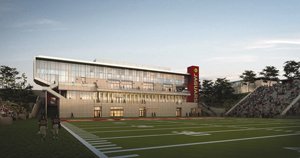 Construction Begins On Costa Pointe
Construction has begun on the upscale apartment homes at Costa Pointe in Carlsbad. The 58 three-story luxury apartments at Costa Pointe feature 3 to 4 bedrooms with up to 3 ½ baths ranging from 1,326 – 2,042 square feet.
The development's exterior features a contemporary Mediterranean style with a two-tone stucco coloring scheme and details that include awnings, wood trellises, ironwork, accent tiles, enclosed eaves and barrel tile roofs. Each multilevel apartment is equipped with nine-foot ceilings in most areas and clerestory windows. Private decks, balconies, and/or rooftop decks on each home offer private outdoor escapes. Each home will also have direct access to an attached garage.
The kitchens feature quartz countertops, tile backsplashes, stainless steel appliances and dark wood finishes. The apartments have wood laminate flooring, Berber carpeting, fireplaces (in select units), security systems, in-home laundry facilities with side by side washers and dryers, and walk-in closets.
"Our goal was to create a place that offers not only a beautiful place to call home but also an entire community providing convenience and elegance for residents," said Gregg Linhoff, project manager. "From the tot lot and pool for the kids to the first class amenities and breathtaking views, Costa Pointe creates the perfect setting for the entire family."
Community amenities at Costa Pointe include a pool and spa, fitness center, covered barbeque area, closed circuit camera system surveillance and a tot lot for the little ones. Additionally, the property lies in the award-winning Encinitas Union School District and San Dieguito Union High School District.
Costa Pointe is slated to open in December. Construction is provided by Lighthouse Homes Inc.
Costa Pointe is located at 7600 Sitio Del Mar, 1.5 miles east of Interstate 5, just off La Costa Ave. in Carlsbad. For more information and leasing details, contact Trilar Management 760-753-0202 or visit www.costapointe.com.
Balfour Beatty Breaks Ground on Field House
Southwestern College and Balfour Beatty Construction broke ground recently on a 40,000-square-foot field house that will overlook Southwestern College's DeVore Stadium in Chula Vista.
The state-of-the-art, four-story field house will enclose the campus-facing end zone. The building will contain team locker and training facilities at the playing field level, strength and conditioning facilities on the second level, four new classrooms and a 140-seat mixed media auditorium on the third level, and health and exercise sciences faculty offices and tutorial spaces for student-athletes on the top floor.
Designed by Gensler Architects, the architectural character of the Field House will reflect the Mayan-theme of the existing campus.
"The field house is a centerpiece of our first phase of construction under Proposition R," said governing board President Norma L. Hernandez. "The facility is designed to have a very open feel, with lots of windows that look out onto our beautiful campus."
Included in Balfour Beatty Construction's project scope is the construction of a 6,000-square-foot central plant that will provide high efficiency cooling and heating for new and existing campus buildings as well as the installation of new synthetic turf in both DeVore Stadium and the football practice fields. The new turf will provide low water-use and low maintenance playing surfaces.
Funding for this project comes from Proposition R, which area voters approved in November 2008. These projects are part of the first phase of construction from Proposition R which totals $90 million.
The Balfour Beatty Construction team working on the project includes Anton Greenville, senior vice president; Howard Eng, senior project manager; Justin Maletic, project manager; Steve Radford, general superintendent; Marco Ruelas, project engineer; and Jessica Poorman, project accountant.
Cush Plaza Scripps Ranch 100 Percent Occupied
CBRE announced that Cush Plaza Scripps Ranch is now 100 percent leased. Located at 10620 Treena St. in the Scripps Ranch submarket of San Diego, the 93,387-square-foot Class A office building has signed leases with 11 new tenants for a total consideration of $16.6 million.
At the time that current owner Treena Properties LP purchased the asset in December 2010, the property had been in receivership and sat vacant in shell condition since its completion in 2008. The CBRE leasing team of Jeb Bakke, Ryan Egli and Laura Bonnett was awarded the assignment in January 2011 and leased the building from completely vacant to 100 percent occupied in 18 months. "The project was almost three years old when the new owners purchased it, but the building was virtually brand new because it was never occupied. The building's image was tarnished by the long period of inactivity," Bakke said. "We worked closely with the ownership to design a rebranding campaign that included renaming the project, adding on-site management, constructing Class A amenities and proactively building move-in ready suites to enhance the brokerage and user group's perception of the building."
Class A amenities added to the project include a fitness center with showers and lockers, state-of-the-art shared conference room, basketball court, putting green, horseshoe pit and outdoor dining area. The new tenants range in size from 2,100 square feet to 24,000 square feet. According to Egli, the competitive lease rate, freeway visibility, on-site ownership and amenities captured the attention of a crucial tenant segment.
"After an exhaustive analysis of Scripps Ranch we determined that the majority of the upcoming rollover was in the 10,000 to 25,000-square-foot sector. We tailored our proactive marketing efforts to this size range of users," Egli said. "We marketed a realistic asking rate for a project with brand new Class A amenities and as a result our building is 100 percent leased."
Creekview Medical Park Selects Cassidy Turley
Cassidy Turley San Diego announced that it has been selected as the exclusive marketing, leasing and sales firm for Creekview Medical Park in Vista.
Mark Avilla, Matty Sundberg and Bob Cowan of Cassidy Turley are the property's leasing and sale specialists.
The 12-building medical office campus is located at 1910-1968 Via Centre Drive and totals 63,265 square feet. The property is situated in a strategic North County location with close access to Interstate 5, Tri City Hospital, Camp Pendleton Naval Hospital, Palomar Medical Center West, Palomar Hospital, and Scripps Memorial Hospital. Property features include new construction and modern architecture; a landscaped setting with walkways and gathering areas; direct access to state Route 78 via Emerald Drive, Plaza Drive and College Boulevard; an above standard parking ratio of 5.6 per 1,000; and building and monument signage.
The project allows for overnight medical use which is ideal for hospice, rehab centers, sleep therapy and specialty hospitals. It is also the closest new, available for sale, medical office development to Tri City Medical Center. The property offers cold shell space for custom build-out as well as flexible size accommodations from 1,800 to 52,635 square feet.
For more information about availabilities within Creekview Medical Park, contact Mark Avilla, Matty Sundberg or Bob Cowan at 760-431-4200.
CBRE Announces $1.44 Million Lease
CBRE announced that Oak Creek Energy Systems Inc. leased 7,526 square feet of office space at La Terraza Corporate Plaza, 500 La Terraza Blvd., in the Escondido submarket of San Diego. The seven-year lease is valued at approximately $1.44 million.
Built in 2008, La Terraza Corporate Plaza is a three-story, 78,477-square-foot Class A office building with current availabilities ranging from 2,500 square feet to 18,476 square feet. Cypress Office Properties LLC acquired the property in October 2011 from the previous lender in an REO-bank sale. Other tenants in the building include Wells Fargo Bank and RBC Wealth Management.
Larry Cambra and Dan Yielding of CBRE represented the lessor, Cypress La Terraza LLC. Jim Laing of Cushman & Wakefield (San Diego), Michael Burgio of Cushman & Wakefield (New York), Joseph Portelli of Marubeni America Corp. and Carina Leegaard of Oak Creek Energy Systems represented Oak Creek Energy Systems Inc., a Marubeni company.