STOCKS: COMPANY BUILDS ON ULTRA CMOS TECHNOLOGY
Peregrine Takes Flight as Public Company
Monday, August 13, 2012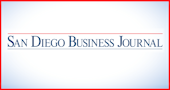 Peregrine Semiconductor, a San Diego maker of radio frequency chips found in many wireless devices, made its public stock debut last week, raising about $77 million and giving the tech firm a market capitalization of about $400 million.
"This is the third semiconductor company from San Diego that has successfully gone public in the last three years, the others being Entropic Communications and MaxLinear Inc., and we're probably the only area of the country that can say that," said Dave Titus, president of the San Diego Venture Group, a nonprofit group serving the venture investment industry.
Unlike some recent high profile IPOs of relatively new companies such as Facebook, Groupon and Zynga, Peregrine has been in business 22 years, providing customers with chips for a wide variety of electronic devices in a wide range of industries.
According to securities filings, the company makes some devices, such as antenna switches, that are sold to about 1,500 manufacturers, including the likes of Boeing, Ericsson, Hitachi, Motorola, and Sony. Since 2006, Peregrine has shipped more than 1 billion chips to customers.
Like Qualcomm Inc., Peregrine contracts with chip manufacturers to make its products, a process called fabless manufacturing. The company is also ramping up the assembly of chips at its local Sorrento Valley headquarters where most of its 340 employees work.
Waiting for Favorable Market Conditions
Peregrine Semiconductor (no relation to the software firm called Peregrine Systems that failed after an explosive accounting scandal) filed its intentions to issue stock in November 2010, and apparently delayed the IPO due to unfavorable market conditions last year.
The company's revenue began increasing around 2006 when sales reached $38 million. From 2007 through 2011, its compound annual growth rate was 19 percent. Last year's revenue was $107.8 million, up 18 percent from the prior year.
For the first six months of 2012, Peregrine's revenue soared 74 percent over the like period of last year, reaching $80 million. The company reported a net loss for the first six months of $3 million, compared with a net loss of $2.3 million in the like period of 2011.
Peregrine has had some rough patches along the way, and sustained mostly losses in its history. The company accumulated losses through the end of 2011 of $228.2 million, according to a securities document.
Rory Moore, chief executive of CommNexus, the nonprofit trade group for telecommunications companies, co-founded Peregrine with two others, Ron Reedy and Mark Burgener. Moore is often asked why it took so long for the company to go public.
Technology Took Longer Than Anticipated
"It's because we were creating a new process technology and learning how to create great designs from that technology," Moore said. "It took time to develop, a lot longer than anyone anticipated."
Moore declined to reveal his personal stake in the company, but did say that he invested some $250,000 in the company in 1990. He noted he was not among the firm's top listed shareholders who have more than 5 percent ownership.
The largest owners are Morgenthaler Partners of Menlo Park, 14 percent; Advanced Equities, Chicago, 11 percent; the U.S. Small Business Administration, 10.6 percent; and Ridgewood Peregrine, New Jersey, 10.35 percent.
CEO James Cable is the largest management owner with about 4.3 percent, or about $17 million.
Moore said the silicon insulator methodology of creating new chips is far different than how most semiconductor companies make their products. While most fabless manufacturers, such as Qualcomm, design chips and then hand them off to high tech foundries, Peregrine created a different process for making the chips, which caused more challenges, he said.
The initial chips made by the company were used in the aerospace and satellite markets because of their radiation resistant qualities.
With the introduction of wireless consumer devices such as smart phones and tablets, manufacturers needed stronger, higher-performing chips that play to the advantages of Peregrine's products, Moore said.
Peregrine has many customers, but the vast majority of its sales are made to only three entities, according to securities filings. They are Murata Manufacturing Co., Epcos AG, and Hitachi Ltd.
The proliferation of more wireless devices that are using enhanced functions is helping to drive increased demand for advanced radio frequency chips. Peregrine's securities filings cited a Frost & Sullivan report stating the worldwide market for radio frequency chips across a variety of industries is expected to grow from $12.2 billion in 2010 to $29 billion by 2015.
Will Strauss, principle analyst for Forward Concepts, a market research firm specializing in wireless semiconductors, said Peregrine's ultra CMOS technology is "almost unique."
"They have competitors but none that are direct," Strauss said. "They have 100 percent market share in their niche market."
Shares of Peregrine, traded under PSMI on Nasdaq, closed at $14.71 the first day of trading, up 5 percent from the initial price.