O'Malley Group Agrees to Buy the San Diego Padres
Monday, August 13, 2012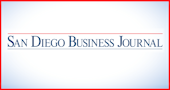 A group headed by Peter O'Malley, the former owner of the Los Angeles Dodgers, including local golf pro Phil Mickelson and local businessman Ron Fowler has agreed to purchase the San Diego Padres baseball team.
The Padres aren't commenting on the transaction except to say an agreement has been reached and needs approval of Major League Baseball.
According to a front page story in the U-T San Diego, the group is paying about $800 million for the franchise now owned by John Moores and a dozen minority partners led by Jeff Moorad. The price includes about $200 million as a down payment by Fox Sports San Diego for the broadcasting rights of the team's games over 20 years, a deal worth a reported $1.2 billion.
Moores, who acquired the Padres in 1994 for $80 million, put the team up for sale in March after Major League Baseball owners failed to approve a 2009 agreement he made with Moorad and his partners to sell the team for $525 million. Moorad, a former sports agent, resigned as the Padres CEO shortly after final MLB approval didn't materialize.
This is O'Malley's second attempt to return to owning a pro ballclub. He sold the Dodgers in 1998 to Rupert Murdoch's News Corp., and tried to buy the club back from Frank McCourt.
— Mike Allen