City Refinances Bonds
Tuesday, August 7, 2012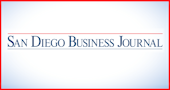 The city of San Diego refinanced 11 different bonds it issued earlier, taking advantage of historic low interest rates, and saving taxpayers $13.3 million in annual debt service payments, according to Mayor Jerry Sanders' office.
The largest refinancing was on public utilities bonds that yielded annual savings of $9.6 million, and total $163.6 million over the life of those bonds, Sanders' office said.
The savings will be used to pay for additional water and sewer improvements, and general fund uses, including extending library and recreation center hours, said Sanders' office.
San Diego has made a huge turnaround from the days earlier in the decade when the city was unable to issue bonds due to an accounting scandal caused from not disclosing the size of its pension fund obligation to investors. In 2009, the city issued its first bonds since 2003, and in April, Standard & Poor's increased San Diego's credit rating from A to AA-, three notches off its highest, AAA rating.