Executive Profile: Mark Cafferty
Monday, August 6, 2012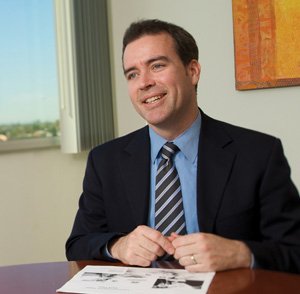 RESUME
Name: Mark Cafferty.
Organization: San Diego Regional Economic Development Corp.
Titles: President and CEO.
No. of employees: 14.
Education: B.A. in marketing and communications, Assumption College (Worcester, Mass.); advanced certificate in performance measurement and nonprofit management, Harvard University; selected as a Center for Social Innovation Fellow for Non-Profit Leaders at the Stanford Graduate School of Business.
Birthplace: Boston, Mass.
Age: 41.
Current residence: Point Loma.
Family: Proud husband to Dr. Charlene Kakimoto; two sons Kai and Quinn.
As president and CEO of San Diego Regional EDC, Mark Cafferty runs a nonprofit organization that is supported by more than 135 companies — representing all aspects of San Diego's diverse economy...