SDG&E Takes Award for Smart Grid Deployment
Friday, August 3, 2012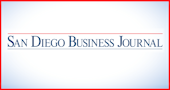 Power Magazine is recognizing San Diego Gas & Electric Co.'s smart grid deployment programs with the 2012 Power Smart Grid Award.
SDG&E's ambitious deployment plan calls for an investment of $3.5 billion from 2006 through 2020, which the company says will result in between $3.8 billion and $7.1 billion in related benefits and newfound efficiencies.
A substantial part of the deployment plan is SDG&E's smart meter program. Nearly all of the 1.4 million electric meters in SDG&E's 4,100-square-mile service territory have been converted to smart meters, and upgrades have been made to its 850,000 gas meters.
With the smart meters in place, SDG&E is able to participate in programs such as the "Green Button" initiative that help customers conserve energy and save money. The Green Button is an online tool that gives customers access to up to 13 months of detailed energy consumption data and encourages conservation.
The smart meters also provide the technological flexibility for the recently launched "Reduce Your Use" campaign geared toward residential and small-business customers. SDG&E says this program provides monetary incentives to customers that save during critical peak events and will help alleviate the summer energy shortage due to the safety outage at the San Onofre Nuclear Generating Station.
In addition, the magazine describes how SDG&E is using the smart grid to integrate renewable solar and wind energy, which are intermittent by nature and require new technology to account for fluctuations in supply.
"I commend all of our employees and customers for helping us adopt the smart grid and connect to all the amazing benefits it can bring to the region," said Jim Avery, senior vice president for power supply at SDG&E, in a statement. "This advanced network is the key to unlocking the full potential of renewable energy while maintaining reliability, and offering customers more choice, convenience and control of their energy usage."