County Construction Contracts Down 14 Percent in First Half
Friday, August 3, 2012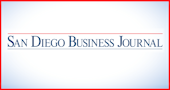 Contracts for future San Diego County construction declined 14 percent in the first six months of 2012 compared with the year-ago period, according to data from New York-based McGraw-Hill Construction.
Local contracts totaled just over $1.77 billion in the January-June period, down from $2.07 billion in the first half of 2011. Local nonresidential contracts declined 21 percent, to just under $1.2 billion, while residential contracts rose 3 percent, to just over $579.9 million.
For the month of June, total San Diego County building contracts dropped 65 percent from a year ago, to just over $281 million. The decline was sparked primarily by an 85 percent decrease in nonresidential activity, to $104.8 million.
Contracts for future local residential projects rose 59 percent in June from a year ago, to $176.1 million.