Real Estate Roundup
Monday, April 30, 2012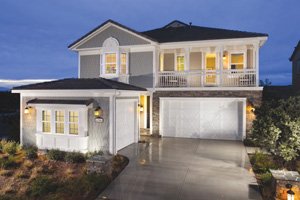 Pardee Homes Sees Banner 1st Quarter
According to San Diego-based DataQuick, the southland housing market posted the highest number of home sales in February in five years, with San Diego boasting a 16.3 percent increase from one year ago. Pardee Homes is sharing in that success in North County.
"Together, three of our most successful new home neighborhoods have gotten a jump-start on the year, with a total of 53 homes sold in the first quarter of 2012," said Matt Sauls, regional director of marketing for Pardee Homes. "With strong sales going into the second quarter of 2012, we are moving forward with the grand opening of new neighborhoods this year — Sorrento Heights and Sorrento Terrace."
The top sellers in Pardee's portfolio include Brightwater and Hampton Lane, both offering single-family detached homes for move-up buyers in Pacific Highlands Ranch and Highlands Village, a neighborhood of upscale townhomes in a resort-style setting located above Carmel Valley in Carmel Country Highlands. Sixteen homes were sold during the first quarter of this year at Brightwater, which opened for sale last October; 15 were sold at Hampton Lane; and 22 homes were sold at Highlands Village.
"The new home market is gaining strength and we are ready for homebuyers who want a home in a great location and one that offers energy-saving features and value," Sauls said. "All of the homes we currently build in San Diego are located in North County and all feature our exclusive LivingSmart program of features and options that offer a distinctive way of life; one that preserves the land and its precious resources."
Eco-friendly Hampton Lane and Brightwater are both located in Pacific Highlands Ranch, where homeowners have coastal-close living and access to their own resort-style recreation center and pool. Residents of this growing community, which is surrounded by 1,300 acres of preserved natural habitat, are close to good schools, shopping, beaches and multi-use trails. Hampton Lane is priced from the high $600,000s and includes three floor plans with four bedrooms, three baths and approximately 2,390 to 2,630 square feet. Brightwater is priced from the mid $800,000s and offers homebuyers three floor plans with four to five bedrooms, three and four baths and approximately 2,827 to 3,432 square feet.
Stylish and sustainable, Highlands Village features modern, low maintenance townhomes with attached garages and amenities including a private clubhouse with swimming pool, spa, fitness facility, media room, business center and kid's play area. There are even two guest units available for rent to guests of homeowners. Highlands Village features five floor plans with two to four bedrooms, two and one-half baths and approximately 1,274 to 2,069 square feet. Priced from the mid $400,000s, the final homes are now selling at this popular Carmel Country Highlands neighborhood.
In late May, Pardee Homes will open Sorrento Heights, a brand new hillside neighborhood of 113 sophisticated, single-family detached homes located above Sorrento Valley. Three floor plans will be available, offering two-story living with three to four bedrooms and approximately 2,155 to 2,506 square feet.
Sorrento Terrace Construction Under Way
Model home construction is under way above Sorrento Valley for a new neighborhood of condominiums by Pardee Homes. Sorrento Terrace is expected to open for sale this summer, bringing a collection of 71 new homes to the area.
Located above Sorrento Valley, Sorrento Terrace will include seven floor plans, offering up to three bedrooms, two baths and approximately 991 to 1,541 square feet. Charming Spanish and Craftsman architecture will accent these eco-friendly, one- and two-story homes with direct-access garages. Pricing is anticipated to be from the high $300,000s.
Sorrento Terrace will feature Pardee Homes' LivingSmart package of energy saving features and options. Some of today's most desired amenities will be standard, including slab granite kitchen countertops, stainless steel appliances, Low-E windows, recessed lighting and a convenient recycling cabinet in the kitchen. A community swimming pool is also planned.
"The real story here is the location," said Matt Sauls, director of marketing for Pardee Homes. "We have developed a product that not only suits the location, but fulfills a need in coastal San Diego for well-appointed, but reasonably priced new homes. Good schools and proximity to employment centers in downtown San Diego, Torrey Pines, La Jolla, University City and UC San Diego contribute to the desirability of the area. The models are expected to be ready this summer, look for video updates at www.pardeehomes.com or call our online specialist at (858) 342-8797.
Standard Pacific Homes Launches Bellasario
Standard Pacific Homes announced plans to launch sales at Bellasario, a brand new collection of residences in the master-planned community of Stonebridge Estates.
Bellasario at Stonebridge Estates offers one-and two-story single-family home designs which blend timeless architecture with casual luxury.
Standard Pacific Homes' new designs feature large-scale open spaces, including highly-appointed kitchens that flow into expansive great rooms. The homes provide master suites with walk-in closets and spacious private bathrooms. Plus, the homes offer an outdoor covered patio area that extends the livable square footage of the home and provides the opportunity to enjoy the California weather.
"We are delighted to introduce our all new home designs to the highly-sought after master-planned community of Stonebridge Estates," said Ted McKibbin, Southern California Coastal president for Standard Pacific Homes. "With an extensive menu of options for flexible living spaces homeowners can customize their home to meet the unique needs of their families."
Priced from the $800,000s, Bellasario's estate-sized residences range in size from 4,180 to 5,155 square feet of living space. The homes feature Italian, French-country and Tuscan exterior styles and offer up to six bedrooms and four and one-half bathrooms. Serving up home sites up to one-half acre in size, Bellasario offers expansive backyards large enough to accommodate a future swimming pool, vineyard or private casita.
The community boasts a countryside setting with 1,600 acres of preserved open space, rose gardens, apple orchards and olive trees. Community amenities include hiking and biking trails and an eight acre neighborhood park complete with sports fields and a playground. Plus, the community's children may have the opportunity to attend elementary through high school in Poway Unified School District, one of the most sought-after educational systems in San Diego County.
Visit Bellasario at Stonebridge Estates at 15773 Bacara Court, San Diego, CA 92131. For additional details and directions visit www.standardpacifichomes.com.
Escondido Property Sells for $2.6 Million
Hidden Springs Apartments, at 711 W. Lincoln Ave. in Escondido, sold for $2.6 million, or $104,000 per unit. The buyer, Arcadia Pines Properties LLC, acquired the property from Glenarron LLC.
Completed in 1979, the property totals 23,475 square feet and sits on a 1.84-acre parcel. It features 25 units that are comprised of two-bed, 1.5-bath units.
Bill Anderson and Andrew Lindsay of ACRE Investment Real Estate Services represented both the buyer and the seller in the sale.
Traffic, Sales Up at Brookfield Homes
San Diego new-home builder Brookfield Homes had 16 home sales in March. This is the builder's biggest sales month in the last 30 months.
"It feels great to post these numbers," says Debby King, director of marketing for Brookfield Homes. "Our traffic is up and shoppers are excited by our new and existing single-family homes and townhomes across the county."
In March, Brookfield had sales activity at all of its new-home communities. Two of its communities, Sago in Carlsbad and Mahogany in San Marcos, were best-selling communities in their respective cities.
Sago at The Foothills, Brookfield's newest community, substantially contributed to March sales numbers. The coastal community, which opened last month, is Carlsbad's best-selling new-home community priced under $600,000 for the month of March. Priced from $459,900, the detached homes at Sago offer some of the most affordable new homes in Carlsbad.
Across the way in San Marcos, Brookfield is closing out its detached new-home community, Mahogany at Old Creek Ranch. With 14 home sales in 2012, Mahogany is the best-selling new-home community in San Marcos year-to-date. Five homes remain at Mahogany.
Also contributing to March sales numbers were Brookfield's Rockrose at The Foothills in Carlsbad; Trellis and Cordova at Windingwalk in Chula Vista; as well Serenity at Stonebridge Estates east of Scripps Ranch in San Diego. For more information about Brookfield's communities, visit www.brookfieldsd.com.