FINANCE: INVESTMENT INCREASES LOCALLY, WHILE DECLINING NATIONALLY
Local Life Sciences Firms Draw the Cash in 1st Quarter
Monday, April 30, 2012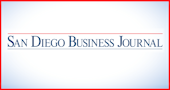 Sapphire Energy Inc., Celladon Corp. and Aragon Pharmaceuticals took the lion's share of local venture capital in a first quarter of an investment cycle that favored the life sciences.
Although two reports issued in mid-April by Dow Jones VentureSource and the National Venture Capital Association/PricewaterhouseCoopers differed slightly, both reported a rise in VC funding in San Diego and a decline nationally.
Dow Jones VentureSource reported that companies nationally raised $6.3 billion through 717 venture capital deals during the first quarter 2012, an 18 percent decline in capital and 9 percent decline in deals from the same period last year.
"The declines were pretty evenly spread across industries so there weren't any big winners or big losers in the quarter, but there were some surprises," Jessica Canning, global research director for Dow Jones VentureSource, said in a statement. "Investment in consumer Internet companies fell after two exceptional investment years, while the IT industry fared well thanks to strong interest in software startups."
The median amount invested in a financing round fell 13 percent to $4 million in the first quarter of 2012, according to Dow Jones VentureSource.
The Local Picture
Locally, Dow Jones VentureSource reported that 21 local firms received $467 million in venture capital during the first quarter, up from 29 companies with $219 million in funding the previous year. The National Venture Capital Association/PricewaterhouseCoopers reported that 22 companies received $357 million in VC funding compared with $156 million in 30 deals for the same quarter last year.
In reporting the findings, National Venture Capital Association/PricewaterhouseCoopers noted that the life sciences sector, including biotech and medical device industries, continues to capture the largest share of total investment dollars with 15 of the 22 deals, or 68 percent of the deals and 51 percent of the dollars invested in the sector.
Bill Molloie, a PricewaterhouseCoopers partner, said the first quarter of 2012 is up in terms of total investment dollars, but only slightly down in deals for the region. This quarter saw early stage companies capturing 71 percent of the dollars invested compared with 30 percent for 2011 with no seed/startup investments this quarter, he said.
"This activity suggests confidence on the part of venture capitalists in companies and management teams further along in their cycle of development," Molloie said.
At the top of the VC stack is Sapphire Energy, a clean-tech company active in converting algae to biofuels, which raised $144 million in funding in the first quarter. The company announced it secured the final tranche of a Series C investment funding that included backers Arrowpoint Partners, Monsanto and other undisclosed investors.
Next in line is the biopharmaceutical company Celladon Corp., which completed a $48 million equity financing to advance its lead investigational product candidate Mydicar for the treatment of heart failure. Celladon's financing was led by new investor Pfizer Venture Investments and also included new investors Lundbeckfond Ventures, Novartis Venture Funds, H&Q Healthcare/Life Sciences Investors and GBS Venture Partners. All previous investors participated in this round, including Enterprise Partners Venture Capital, Johnson & Johnson Development Corp., and Venrock Associates.
Krisztina Zsebo, president and CEO of Celladon, said positive data from Mydicar's phase two trial contributed to the company's ability to attract significant investment. Among the results, the company reported that 12 months after receiving a single infusion of Mydicar, patients treated with the highest dose versus placebo had an 88 percent risk reduction of major cardiovascular events such as death, the need for left ventricular assist device or cardiac transplant, episodes of worsening heart failure and the number of heart failure-related hospitalizations. Having just completed phase two, the next clinical trial design is still being planned, Zsebo said
With fast-track status granted by the FDA in December, Zsebo said they're working with a faster regulatory timeline, which should shorten the time it takes to reach commercialization, although it's not clear yet when they would be at that point.
"We are in discussions with the FDA about a development plan," Zsebo said.
In addition to Mydicar, Celladon has a small molecule program in the discovery stage and they're in discussions with pharmaceutical companies about potential partnerships.
Aragon Pharmaceuticals is also a top recipient of VC funding. It said that it secured $42 million in an oversubscribed Series C financing. The company plans to use the financing to advance its pipeline of therapies targeting hormone-driven cancers, including ARN-509, the company's lead compound for the treatment of castration-resistant prostate cancer.
The financing is led by a new investor the Topspin Fund, an investment group of James Simons, Leo A. Guthart and Steve Winick, and includes the participation of existing investors Aisling Capital, OrbiMed Advisors and The Column Group.
"This $42 million round of financing puts Aragon on strong footing to execute on its promising pipeline in prostate cancer and breast cancer (treatments)," said Richard A. Heyman, president and CEO of Aragon. "The addition of an investor like Topspin with a like-minded vision and considerable financial resources strategically provides Aragon with access to significant capital in the future."