LAW: FIRM TO REFLECT CUTTING EDGE PRACTICE, YOUNGER LAWYERS
Higgs Fletcher Mack Rebrands Law Practice
Monday, April 30, 2012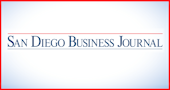 Higgs Fletcher Mack takes on a new look today, launching a "re-branding" campaign designed to highlight what has made the San Diego law firm one of the more successful practices for 60 years and younger management.
The rebranding comes on the heels of a major remodeling of their offices, located on West A Street in downtown San Diego, and incorporates a new firm logo.
"We're being run by younger lawyers, who want our image to reflect our cutting edge practices," said Managing Partner John L. Morrell. "But our formula for success — focusing on San Diego- centric business — is the same. It works."
Higgs is a full service law firm that strives to serve San Diego people and San Diego industries. Its primary practice areas include, business litigation, employment law, bankruptcy and insolvency, corporate and securities, real estate, construction and tax.
The firm has a rich, local history. It was founded in 1939. Dutch Higgs and Ferd Fletcher become acquainted during a lawsuit in which they were on opposite sides. They begin playing golf together and on January 1, form their partnership, Higgs & Fletcher. In 1953, Henry Pitts Mack, former Chief Deputy District Attorney for San Diego County, left Gray, Cary, Ames & Frye and joined the firm, which became Miller, Higgs Fletcher & Mack, and later Higgs Fletcher & Mack. The current management committee includes Morrell and Timothy D. Waters, William M. Low, Steven J. Cologne and James M. Peterson.
Higgs launches the re-branding campaign at a time when the local legal market continues to deal with a reduction in large merger and acquisitions and an uncertain business climate. Billings are still down or flat from 2008. Those factors, among others, lead to the high-profile acquisition of Luce Forward, a local firm for 138 years, by McKenna, Long & Aldridge LLP, an Atlanta-based firm. Luce Forward had total billings in the range of $90 million.
Right Time for Rebranding
"Higgs rebranding effort is timely," said Larry Watanabe, founder and owner of Watanabe Nason LLC, which is one of Southern California's leading attorney recruiting firms. The firm has successfully handled more than 750 partner transactions with major law firms throughout California.
"Since the demise of Luce Forward and closing of Baker & McKenzie's office coupled with the continued success and growth of Procopio Cory, (Procopio, Cory, Hargreaves & Savitch LLP) many local San Diego firms are attempting to gain market position."
Morrell said his firm has been approached by firms in California and Arizona about acquisition or merger, but none of the offers made sense for the partners or San Diego. Higgs commitment is backed up with a requirement that all attorneys be involved with a community nonprofit or community project.
"Firms like Procopio and Higgs service local clients and can offer billing rate/fee structures significantly more competitive than the larger national law firm model," said Watanabe, whose firm also advises partners in areas of practice evaluation, market dynamics, competitive law firm economics and compensation negotiation. "Both are also full-service law firms with deep local resources versus niched boutiques."
Higgs had total billings of approximately $25 million in 2011, which is similar to 2008 billings, and slightly better than billings in 2010 and 2009 respectively. Morrell is equally proud of the fact that Higgs did not layoff any lawyers during the Great Recession. "We did reduce about 10 support positions, which we didn't want to do, but it has ended up making us more efficient," he said.
Being more efficient, and having a compensation plan based entirely on productivity, is a key to how Higgs is growing its professional staff. It now has 66 practicing attorneys at the firm, ranking it among the top 10 firms in San Diego. There are roughly 20 associates, 20 income partners and 20 equity partners.
Fee Structure
"Our fees tend to be in the $300 to $350 per hour range," Morrell said. "The bigger national firms tend to be in the $500 per hour range. Our partners rates tend to be where there associates are billing. So at Higgs, you get partner quality advice at an associate rate."
Higgs is able to do that because its compensation plan is solely based on productivity.
"Where some firms are paying a fixed, higher rate to acquire a partner from another firm, we don't do that," Morrell said. "That means our fixed costs are not as high as the traditionally larger firms."
National firms can do that because most of their business is coming from out of San Diego, Morrell said. "The big firms, in general, are doing work that doesn't originate in San Diego. There might be a partner there with a particular expertise, or there might be property in San Diego or some other San Diego angle, but the merger or acquisition or litigation didn't start in San Diego," he said.
Watanabe agrees. "By virtue of their merger with a national law firm, partners at Luce will be pressed to increase their rate/fee structure as McKenna strives to remain a (top) 100 firm," he said.  "Often firms in the top 100 rankings have senior associate billing rates which are equal to or greater than that of partners at local San Diego firms."
That doesn't mean that hasn't successfully attracted attorneys from other firms, both smaller firms and larger firms. "We are acquiring talent from smaller firms, and some of the bigger firms, because many lawyers see the value of compensating on productivity, not seniority," Morrell said.
The managing partner is optimistic about the practice of law in America's Finest City. "Every lawyer seems to say there are too many lawyers, but we see a lot of San Diego work to be done," he said. "And our clients — all clients — are going to continue to demand value. Clients want to be assured there is a return on our services. That's what we do well."