City Reports Increase in Credit Rating
Friday, April 27, 2012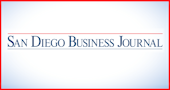 The city of San Diego saw its credit rating bumped up two notches by Standard & Poor's to AA- from A, an event that Mayor Jerry Sanders cited on April 25 as another sign that the city's financial health has turned around.
"This is another positive sign from Wall Street regarding our efforts to strengthen San Diego's financial fitness," Sanders said.
The higher credit rating means the city can pay lower interest rates on the debt it issues.
According to S&P, the city merited the upgrade because of improvements the city made to its accounting internal controls, disclosure practices and financial systems in the past few years.
The changes were required as a result of an accounting scandal that exploded beginning in 2002 when the city failed to reveal the extent of liabilities associated with its employee pension fund. Subsequently, two credit rating agencies downgraded the city's rating to just above junk bond status, while S&P suspended rating the city's debt.
Those measures effectively locked out San Diego from borrowing on the public markets until 2009. As a result of the inability to issue bonds, San Diego had to borrow money from banks at higher interest rates and severely cut its budget, reducing services and cutting hundreds of jobs.
In addition to raising the rating on the city's overall credit, S&P also increased the rating for the San Diego Public Facilities Financing Authority, to A+ from A-.
The PFFA is the paper agency that has issued much of the city's bonds on major projects including Petco Park and the San Diego Convention Center.