ENERGY: COMPANY AIMS TO MEET CALIFORNIA REQUIREMENT BY 2020
Sempra Spending $2 Billion Developing Renewable Power Plants
Monday, April 23, 2012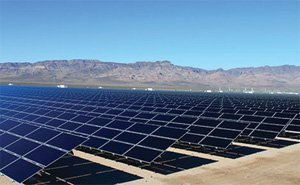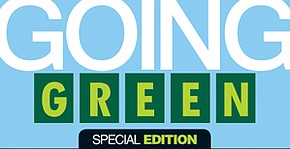 Sempra Energy continues working on a number of fronts to increase its generation of power derived from renewable sources.
Through its wholly owned subsidiary Sempra U.S. Gas and Power, Sempra is building solar and wind generation plants in Arizona, Hawaii, Kansas, Nevada and Pennsylvania. It also has plans to build renewable projects in California, and expand current ones in Arizona and Nevada.
"We're one of the top five solar energy developers in the United States," said USGP spokesman Scott Crider. In the four years that Sempra has been developing renewable power plants, it's invested about $2 billion, he said.
The shift to generating energy from solar and wind is mainly driven by the California requirement that all utilities reach 33 percent of power delivery from renewable sources by 2020. But Sempra's position with more traditional power sources helped it move faster and farther than many other utilities, Crider said.
Sunny Outlook
The company was already operating natural gas plants in some of the areas, which also happen to be in the most sun-drenched parts of the nation. For instance, Sempra already owned some 4,000 acres of land around a natural gas plant it operated in Arizona, making it easier for the company to build its Mesquite Solar 1 solar project there, Crider said.
Similarly, with an existing natural gas plant it operated in Boulder City, Nev., Sempra saw the obvious potential for creating solar there. It erected a first-phase solar plant there in 2008 and expanded it in 2010.
The first-move advantage in building such projects has provided Sempra U.S. Gas and Power with critical experience, Crider said.
"When it comes to solar, few companies can match our experience and do projects of this scale," he said.
On the wind side, USGP is in the construction phase for three projects in Kansas, Pennsylvania and Hawaii. This year, the company said it entered into agreements with BP Wind Energy to develop the wind farms in Kansas and Pennsylvania.
The wind farms have a combined output of 560 megawatts, and are the largest such plants ever in each of those states. The combined investment in the two projects is more than $1 billion, said Sempra, the parent firm to San Diego Gas & Electric Co.
$1.88B Sunrise Powerlink
Closer to home, SDG&E is nearing completion of the controversial Sunrise Powerlink, a 117-mile transmission line that will carry solar- and wind-powered electricity from Imperial County to San Diego.
"It's more than 85 percent complete, and scheduled to be finished in June," said SDG&E spokeswoman Jennifer Ramp.
The project's $1.88 billion budget is not being exceeded, she said.
Despite a temporary shutdown in construction ordered by the state's Public Utilities Commission last year, the company said it is in full compliance with additional procedures required by the PUC after materials were dropped from helicopters engaged in the work.
Ramp said the company has been in full compliance with those measures as well as some 350 other requirements that are in place to ensure the project doesn't harm the environment.
When completed, the line will have the capacity to transmit up to 1,000 megawatts of renewable energy, enough power for 650,000 homes. When Sunrise actually begins transmitting power remains in the hands of the state's Independent System Operator, the entity that manages the power grid. SDG&E has signed eight contracts with power providers, Ramp said.
The Sunrise project cost makes it likely the most expensive renewable energy project in the nation, said Michael Shames, executive director of Utility Consumers' Action Network.
"This is a very expensive way to get renewable power," Shames said. "When you factor in the profit that SDG&E is getting (he estimated $1.5 billion) and the construction costs, the line will end up costing consumers somewhere in the ballpark of $3.5 billion … and that doesn't buy a penny of power."
Ramp said the project received approvals from both federal and state agencies, has been vetted in numerous public hearings, and is the result of the state's mandate for utilities to help reduce greenhouse gas emissions by reaching the renewable sources goal by 2020.
"There is more than 12,000 megawatts of potential renewable energy in solar and wind in Imperial County, and this is a clear path to bring it to San Diego," she said.