ADVERTORIAL: GOING GREEN SUPPLEMENT
Profile: SDG&E
Monday, April 23, 2012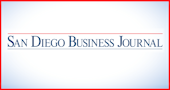 For people in San Diego and South Orange Counties, San Diego Gas & Electric® (SDG&E®) is known for keeping the lights on. But what else do we do? We help people manage their energy use and be more energy efficient at home and work. We're also focused on meeting the growing energy needs of the region now and in the future by purchasing more clean energy for our customers, helping to facilitate the growth of electric vehicles and modernizing the existing electricity "highway" with smart grid and smart meter technologies.

With the upgrades we're making to our system we're becoming a network – connecting energy, people, the community and the planet.

Through our energy-efficiency programs, we've helped save enough energy to power 830,000 homes a year. We have replaced nearly all of our customers' 2.3 million gas and electric meters with smart meters. These meters are a tool that gives customers more control of their energy use. We're also dedicated to working with communities we serve. Collaborating with local organizations, we've helped preserve and restore local eco-systems totaling close to 10,000 acres. And we're leading the state in purchasing renewable energy – from less than 1 percent in 2002 to more than 20 percent in 2012 – well on our way to reach our goal of 33 percent by 2020.

Recently we were honored with the Organizational Leadership Award at the inaugural Climate Leadership Awards in Ft. Lauderdale, Florida. This award recognizes organizations that go beyond business as usual in the management and reduction of greenhouse gas (GHG) emissions. For SDG&E, it demonstrates that environmental stewardship is an essential part of our business.
Submitted by San Diego Gas & Electric